Dr. Jasna Plevnik at the opening ceremony of The Belt and Road Forum 2017
Details
Belt and Road Forum Impacts
Two-day summit opened on May 14 at the National Convention Centre in Beijing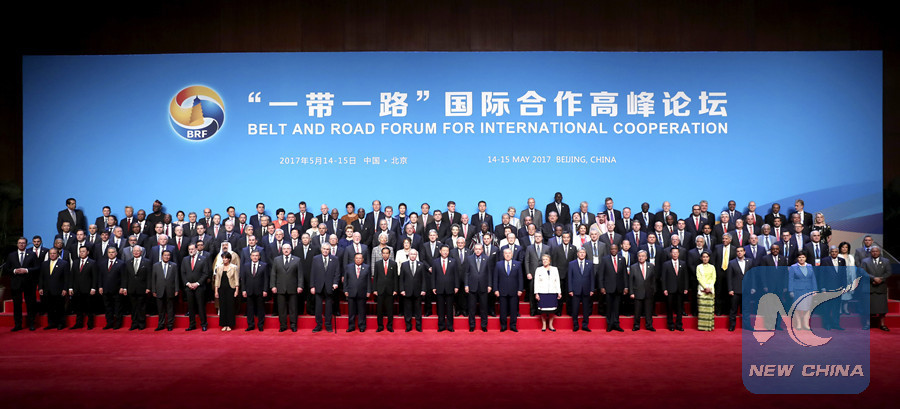 A group photo 2017: Chinese President Xi Jinping and world leaders at the opening ceremony of the Belt and Road Forum (BRF) for International Cooperation. Photograph: Xinhua
President Xi Jinping: The Belt and Road Initiative is open to all countries
The Belt and Road Forum hosted 29 world leaders as well as United Nations Secretary General Antonio Guterres, World Bank President Jim Yong Kim, IMF Managing Director Christine Lagarde and countless high-ranking officials.
The European Union represented European Commission Vice President Jyrki Katainen.
Here are the key points from the two-day summit opened on May 14 at the National Convention Centre in Beijing.
President of China Xi Jinping pledged an extra in RMB 100 billion funding for the Belt and Road Initiative (BRI) further development granting billion soft loans through the China Exim Bank and China Development Bank. Referring to OBOR as "the project of the century", the President of China stressed a necessity of international cooperation based on inclusiveness and connectivity stressing China's endeavour to promote growth both in China's respective regions and globally.
– We need to improve policy coordination and reject beggar-thy-neighbour practices. This is an important lesson that can be drawn from the global financial crisis and is still very relevant to the development of the world economy today. We need to seek win-win results through greater openness and cooperation, avoid fragmentation, refrain from setting inhibitive thresholds for cooperation or pursuing exclusive arrangements and reject protectionism – President Xi said. He also vowed to tackle poverty in recipient countries.
America's delegation: US firms ready to participate in Belt and Road projects
A new important moment in the Belt and Road history is that the Unites States sent a delegation led by Matthew Pottinger, Senior Director for East Asia affairs of the National Security Council. The US embassy in Beijing and US companies are going to form The American Belt and Road Working Group.
Pottinger described BRI as the opportunities for US firms that have a successful record of accomplishment in global infrastructure development and are ready to participate in Belt and Road projects. In 2014, Chinese construction and engineering companies ordered just $400 million worth of equipment from G.E. to install overseas, overwhelmingly in the region, known as "One Belt, One Road." In 2016, the orders totalled $2.3 billion, and G.E. plans to bid for an additional $7 billion in orders for natural-gas turbines and other power equipment. Henry Paulson, former Treasury Secretary and the chairman of the Paulson Institute at the University of Chicago said at the BR forum: "The more China can demonstrate that the Belt and Road initiative is open to outside participation in this way, the more it will be embraced by global – and even American – firms and suppliers." Pottinger said that US firms participation would depent on transparency in procurement and broad participation of private sector.
Since the BRI launching in 2013, America has neither come out directly against the global vision of BRI, nor asked other countries not to join the project. Nevertheless, some of China's goals, such as an increasing use of the yuan in trade along the Belt and Road, are perceived to be, just as the AIIB, potentially destabilizing for America's role in global trade and finances. America's policy of containing AIIB has not achieved its desired effect. The Sino-American relationship could be explained as "competition and partnership," thus, there is a possibility for the U.S. to join China's initiative.
President Xi said in numerous speeches on May 14 and May 15 that Belt and Road is open to all countries.
The leaders of developing countries think the Belt and Road Imitative has power to redefine future of capitalism, the world order and be useful for the local economy development creating opportunities for local suppliers of materials, labour and finance.
On the sidelines of The Belt and Road Forum, the Government of the Republic of Croatia signed with the Chinese Government a Memorandum of Understanding on Belt and Road cooperation. The Chinese government signed the MoUs on Belt and Road Cooperation with the governments of Albania, Bosnia and Herzegovina, Montenegro, Mongolia, Malaysia, Myanmar, Nepal, Pakistan, Singapore, and Timor-Leste.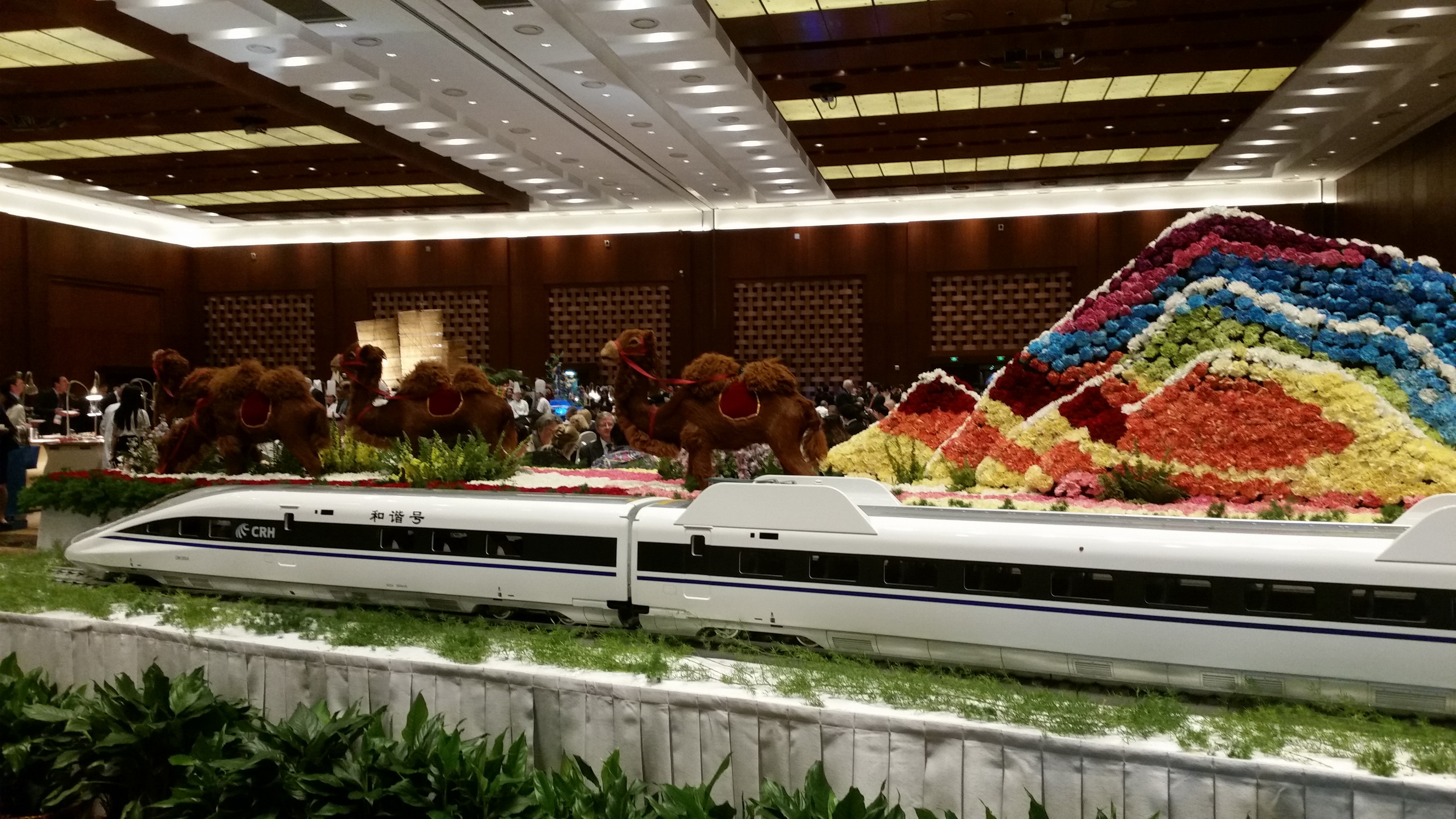 The IMF, WB, WTO and the UN send a supportive message to the BRI seeing it as a driver of Europe – Asia growth. Photograph: J. P.
The Geoeconomic Forum at the BRF for International Cooperation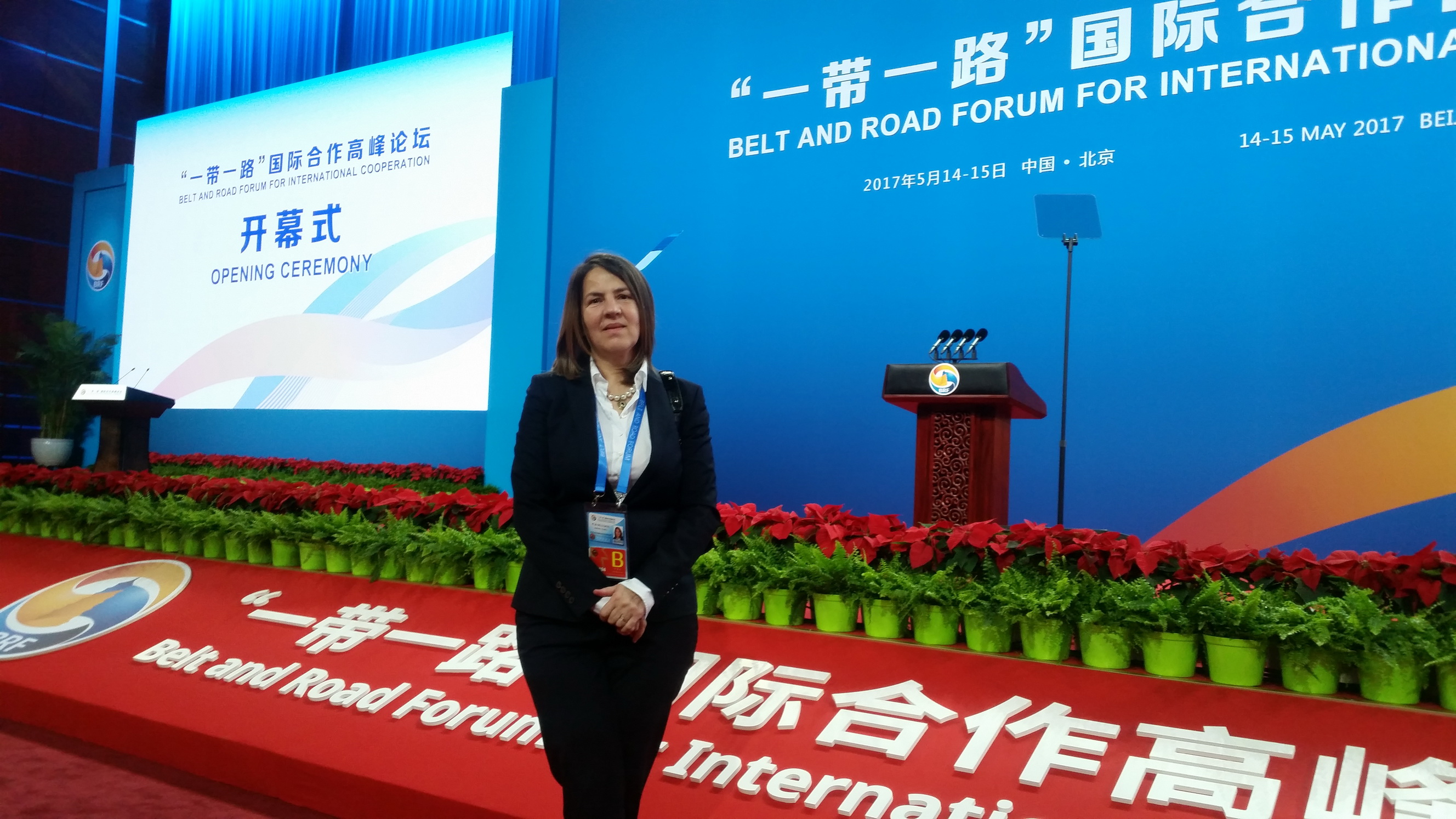 Jasna Plevnik, Founder and Vice President of the Geoeconomic Forum at the Opening day of the BRF for International Cooperation in Beijing, May 14, 2017.
On the Opening day of the BRF for International Cooperation in Beijing, May 14, Jasna Plevnik, Founder and Vice President of the Geoeconomic Forum participated in thematic session on CONNECTIVITY OF DEVELOPMENT POLICIES AND STRATEGIES moderated by Li Wei, Minister of the Development Research Center of the State Council of P. R. China.
The keynote speakers were H.E. He Lifeng, Chairman of National Development and Reform Commission of China, H.E. António Guterres, Secretary – General of the United Nations and H.E. Doris Leuthard, President of the Swiss Confederation.
There were 28 high-ranking speakers, mostly ministers, and among them: Jean – Pierre Raffarin, Special Representative of President Macron and Former Prime Minister, President of the Committee on Foreign Affairs, Defence and Armed Forces of the Senate, Republic of France; Nikola Poposki, deputy Prime Minister and Minister of Foreign Affairs, FYR of Macedonia; Mevlüt Çavuşoğlu, Minister of Foreign Affairs, Republic of Turkey; Toshiro Nikai, Secretary General, Liberal Democratic Party of Japan; Ambassador Thomas Kwesy Quartey, deputy Chairperson, African Union Commission; Luis Alberto Moreno Mejla, President of Inter – American Development Bank.
Jack Ma: The inclusion of young people, women, smaller enterprises and developing countries
Chinese billionaire and Alibaba founder Jack Ma lauded the vision of Chinese President Xi Jinping, saying the Belt and Road Initiative moves forward economic interdependence of the world giving an excellent opportunity for individuals and countries.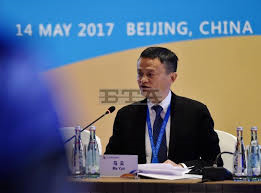 Alibaba's CEO Jack Ma: The Belt and Road Initiative includes young people, women, smaller enterprises and developing countries. Photograph: Xinhua
Jack Ma said that One Belt, One Road strategy has been uniquely effective and inclusive. He thinks that the greatest difference between the Belt and Road Initiative and general globalization lies in the inclusion of young people, women, smaller enterprises and developing countries. To Ma the BRI is not a story on selling Chinese products to Belt and Road countries or importing cheap labour and raw materials, it is on creating jobs, stimulating overseas economies and improving people's livelihoods.
Alibaba's CEO sees building an Electronic World Trade Platform (eWTP), and eRoad, what he proposed at the 2016 Hangzhou G20 summit, as an essential part of the One Belt, One Road Initiative. Jack Ma's vision is that young people from all over the world live in a trade environment in which they will be able to buy and sell products globally with just a smartphone in their hands. Alibaba launched its first overseas eWTP hub in Malaysia.