Jasna Plevnik's kickoff speech at the Conference "16+1 Cooperation" and its Prospect
Details
Croatia and "16 plus1"at eight: Understanding, Influence, and Results
Read Dr Jasna Plevnik's kickoff speech at the Conference.
– Good afternoon to everyone. I am President of The Croatian Geoeconomic forum that is from 2015 a member of the Silk Road think tank network worldwide known as the SilKS. It is good to be in this room full of people who share values like more free trade, more investments, more jobs, more culture and friendship among nations.
For four days, in the spirit of cooperation, connectivity and free trade, will be held 8th Summit of China and Central and Eastern European Countries (16 plus1) in Croatian coastal city of Dubrovnik with the theme of "Building an Open, Innovative, and Partner Bridge". China's PM Li Keqiang's visit to Croatia will be the first visit by a Chinese prime minister to Croatia since the establishment of diplomatic relations between China and Croatia.
The overall relations between Croatia and China, at all three levels: bilateral, multilateral and EU-China, could be featured as entering into an era of deeper connectivity. The format "16 plus 1" has produced an important move forward in relations between Croatia and China.
In 2012, Croatia has become a partner of "16 plus 1" but appeared passive and did not immediately recognised its economic interests, pragmatic and long-term opportunities behind this completely new idea of multilateral cooperation between China and Central and East European countries. It was the time when the country was on its way to become a new member of the European Union and its diplomacy was overwhelmed with this complex process.
The wider opening up of Croatian government to "16 plus 1", which could be seen in increased of high level political meeting, economic indicators, and business agreements, started in 2016 at the Riga summit of "16 plus 1".
Since 2016 to 2018, the political dialogue at high political levels between the countries has been rapidly improved!
The total amount invested in Croatia from 2011 to 2018 is the modest; the most of investment in Croatia arrived from the EU countries and the United States, not form China. Chinese FDI in South East Europe remains limited to Serbia. In the long run China's role in building the Croatian flagship bridge Pelješac could be beneficial for deepening of economic cooperation.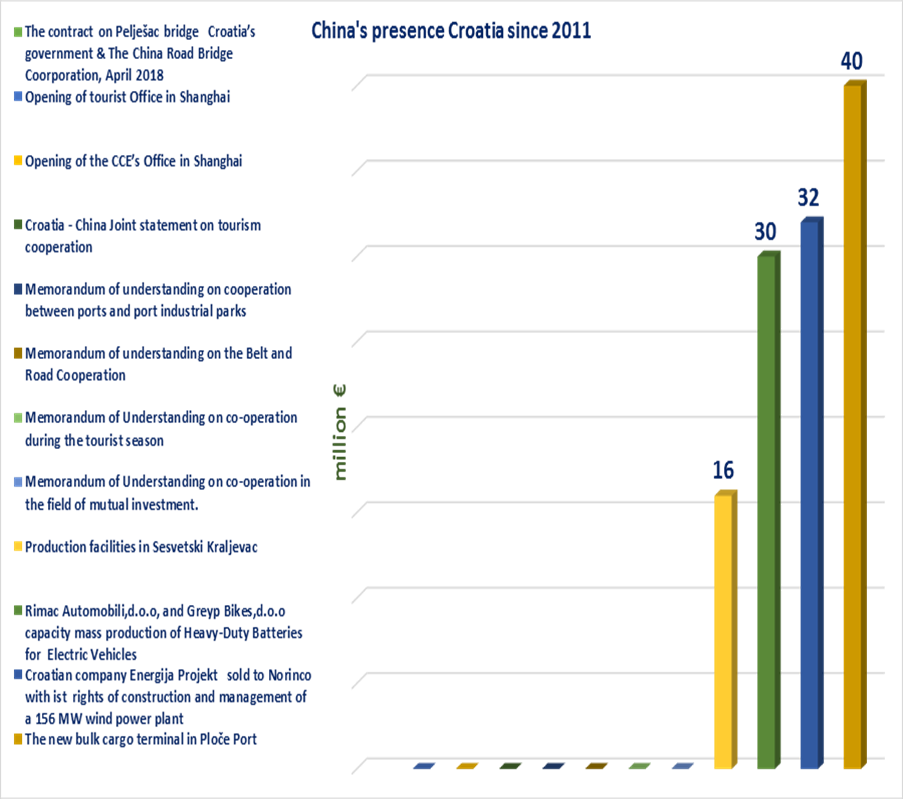 Source: Geoeconomic Forum 2019
The "16 plus 1" encourages all partners to discuss their national benefits and follow them. Croatia sees its side of "win-win" cooperation as getting jobs for its companies, local labour using, developing its manufacturing and exporting operations how could assure two-way trade flows with China.
Croatia's first focus since 2016 has been cooperation with China in tourism industry seeing it as a lever to balance trade deficit with China since Croatia imports eight times more goods from China that exports. This kind of cooperation could also bring other considerable positive effects to Croatia making its tourist sector more balanced in respect of an extension of touristic season and high dependence from West Europe tourists.
In 2018, Croatia has made an important breakthrough in implementation of the people-to-people bonds, one of BRI's five connections when its port of Zadar officially became part of the Maritime Silk Road in cruise tourism. China is able to offer an alternative model for economic growth and its economic presence is going to be increasingly felt in Croatia.
Indeed, diplomacy things do not happen in the historical vacuum. Croatia and China have established diplomacy relations in 1992, at the time when the 14th Party Congress in September the Chinese communist Party, for the first time, declared the "socialist market economy" as China's reform goal and the "planned economy" was deleted from the Chinese Constitution.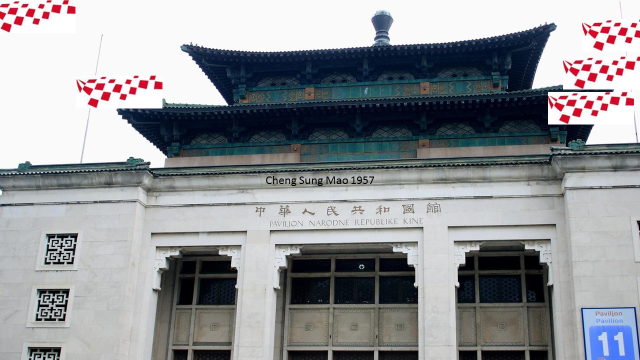 This building was built in 1957 by the Chinese architect Chen Sung Mao and it is a part of the Zagreb Autumn Fair.
For 25 years Croatia and China, diplomacy at bilateral and multilateral level has been unthinkable without two words "Rijeka port."
The Chinese interest for Rijeka grows out of a fact that port of Rijeka is strategically important port that connects the Mediterranean to landlocked countries such as Austria, Hungary, the Czech Republic, Slovakia and Serbia, all of which are markets that China is reaching. However, things are here moving slowly.
Current "16 plus 1" era has been a lot of talk about China's financing a new railway Rijeka- Zagreb- Botovo, but nothing has come of it yet. However, PM Plenković discussed many times with the Chinese Premier how China's ports in Greece could be useful for the economic development of Croatian ports Rijeka, Split, Zadar, Šibenik and Ploče.
HOW CROATIA UNDERSTANDS THE "16 plus 1"?
An introductory period when the idea of cooperation inside "16 plus 1" has been sketched as a new, multilateral pattern of relationship with China has not passed absolutely. The public opinion survey shows less than 20 percent of people in Croatia are aware "16 plus 1" cooperation between China and Central and Eastern European countries.
GfK Croatia public opinion survey, for Embassy of the People's Republic of China in the Republic of Croatia, shows Croatia needs more empirical knowledge about this extremely ambitious model of cooperation. The knowledge based on real – "16 plus 1" events, and numbers need to have a chief voice in explaining "16 plus 1".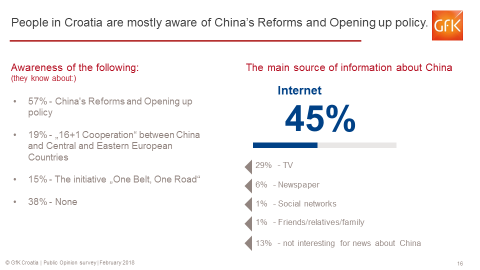 Croatia' fist focus should be on stressing a multilateral nature of "16 plus 1" and developing a multilateral approach to seek to realise its national interests inside this kind of cooperation. The regional dimension of "16 plus 1" remains foundational for realisation of big infrastructural projects and investments. Croatia and other Southeast Europe countries have to focus on building more regional and cohesive China policy how could be in position to handle "16 plus 1" s projects on a multilateral basis as well as to mitigate economic asymmetry in relations with China. China's Ministry of Foreign Affairs has managed the Secretariat of the "16 plus 1"in an interaction way but an intra or internal South East Europe regional pragmatic approach for diplomacy towards China is still missing.
Besides, there should be more knowledge, peculiarly, in the public, that Croatia's "16 plus 1" relations has not been harmful for Croatia's membership in the European Union. This format of cooperation has been developing in compatibility with the EU cardinal strategic documents of development.
That kind of knowledge has power to narrow critique of "16 plus 1". Here I would like to stress that "16 plus 1" included 11 EU member states and 5 EU candidate countries and I think the "16 plus 1" now should not be seen separated from the broader EU-China dialogue and relations. The EU should as soon as possible to unify its position towards "16 plus 1" and the Belt and Road because 16 EU member countries until April 2019 officially have supported the Belt and Road Initiative by Memorandums whilst France and Finland signed Joint Declaration.
If the China-EU investment agreement were reached the next year, the two sides could start the China-EU free trade zone negotiations. Hope at G-20 summit in Osaka, in June this year that will be on free trade, there will be a move in that direction. An agreement on investment and free trade zone would build and long waited unity of the EU's diplomacy towards China.
THE "16 plus 1" FUNDS AND DEVELOPING FINANCIAL COOPERATION
Croatia gives primacy to the EU's structural non-refundable funds, for financing its big infrastructural projects. It is natural and in the interest of Croatia.
Anyway, the country needs deeper knowledge on impressive financial instruments and funds that back of "16 plus 1" and the BRI cooperation.
This kind of knowledge is needed at all Croatia's state levels. Croatia's local authorities are also interested to get more knowledge on available funds and mechanism for financing "16 plus 1" projects and even to become a shareholder. Hungary is very active and has developed financial role in "16 plus 1" funds.
China Central and Eastern Europe Investment Cooperation Fund (China-CEE Fund), registered in Luxembourg in 2016, is not enough visible in Croatia. The China-CEE Fund II, established in 2017, with assets more than a billion euros, is focused to invest in healthcare, tourism, education and agriculture. Croatia is open to that kind of investments. A shareholder of this Fund II is, among others, CEE Equity Partners Limited, "exclusive investment advisor and responsible for sourcing investment opportunities in 16 countries in the CEE region" and it has an office in Zagreb too. It has already invested in two companies in Slovenia but not in Croatia.
Bank of China's branch in Serbia, under control of Bank of China Hungary, is designed to coordinate from Belgrade its activities in Croatia too. The borrowings for supporting BRI's projects in the Region and Chinese and regional companies cooperation in the third markets is in China's domestic currency, the renminbi.
In 2018, the Asian Infrastructure Investment Bank (AIIB) has expressed its interest to invest in some non - Asian countries, in particular, in the EU and in rising of transport connectivity between Eastern Europe and Asia that could provide benefits for Asia's growth.
Croatia is not among non-regional founding member or on the list of Prospective members of the AIIB but it is interested in it.
The EU's new strategy Connecting Europe and Asia – Building blocks lists, in the chapter five, as a key action for financing Europe - Asia connectivity that "the EU should also deepen its cooperation with the Asian Development Bank (ADB) and the Asian Infrastructure Investment Bank (AIIB)."
The European Bank for Reconstruction and Development's (EBRD) partnership with the Asian Infrastructure Investment Bank's (AIIB) that is "one of the strongest" partnerships that the EBRD has "with any multinationals", has potential to bring the AIBB closer to Croatia and South east Europe.
NEXUS OF "16 plus 1" AND THE BRI
In order to fully understand "16 plus 1" diplomacy future development Croatia needs to focus on its changes driven by the Belt and Road's advancement, another form of relations with China, that Croatia has started to pursue in 2017. In Croatia the public, politicians and media do not make a difference between "16 plus 1" and the BRI diplomacies. Frist it has seemed to me as a blunder but with time it has become obvious that "16 plus 1" is on the way to merge with the BRI sooner or later. We still cannot predict what kind of shape it will have inside the BRI's framework.
The "16 plus 1" "Adriatic-Baltic-Black Sea Seaport Cooperation" could be seen as Croatia's leverage to connect its ports, railways and roads inside BRI's maritime main and sub corridors. China is interested, as said above, in deeper infrastructure alliance with Croatia that is the only country in Europe that has the privilege to have the coasts of the Danube and the shores of the Adriatic Sea. This unique position can be significantly upgraded through "16 plus 1"s Adriatic-Baltic-Black Sea Seaport Cooperation".
THE "16 plus 1" and the BRI'S OPPORTUNITIES FOR KEEPING THE FUTURE IN THE FOCUS
Croatia with its ports, deep of sea, and rail connections (pretty outdated) towards Central, Eastern and Northern Europe has many prerequisites to play a significant "off shore" role in China's trade with Europe. To transform itself in logistic hub, economic zone and vital transport corridor Croatia needs big investments in its seaports as well as in the hinterland ports as Vukovar and Osijek.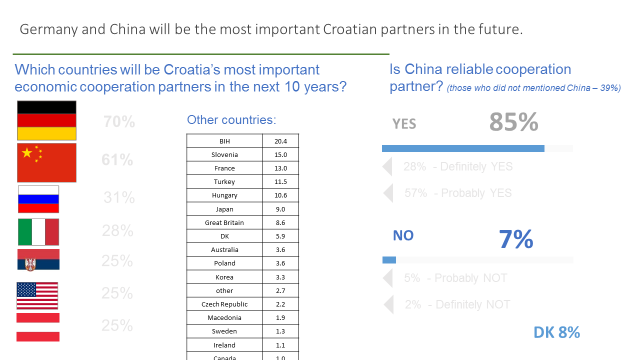 RECOMMENDATIONS FOR CROATIA TO BENEFIT FROM THE "16 PLUS 1" COOPERATION
– to make an explicit strategy for positioning Croatia to more benefit "16 plus 1" diplomacy and launched task forces in Beijing embassy and offices of CCE and CTZ in Shanghai.
– To raise understanding of China and the "16 plus 1" through experience, knowledge and facts.
– To keep in mind the most eligible projects are those that could contribute to more than one country to benefit from the BRI
– To initiate a South East Europe "16 plus 1" multilateral dialogue focused to bring a greater clarity on benefits of "shared development"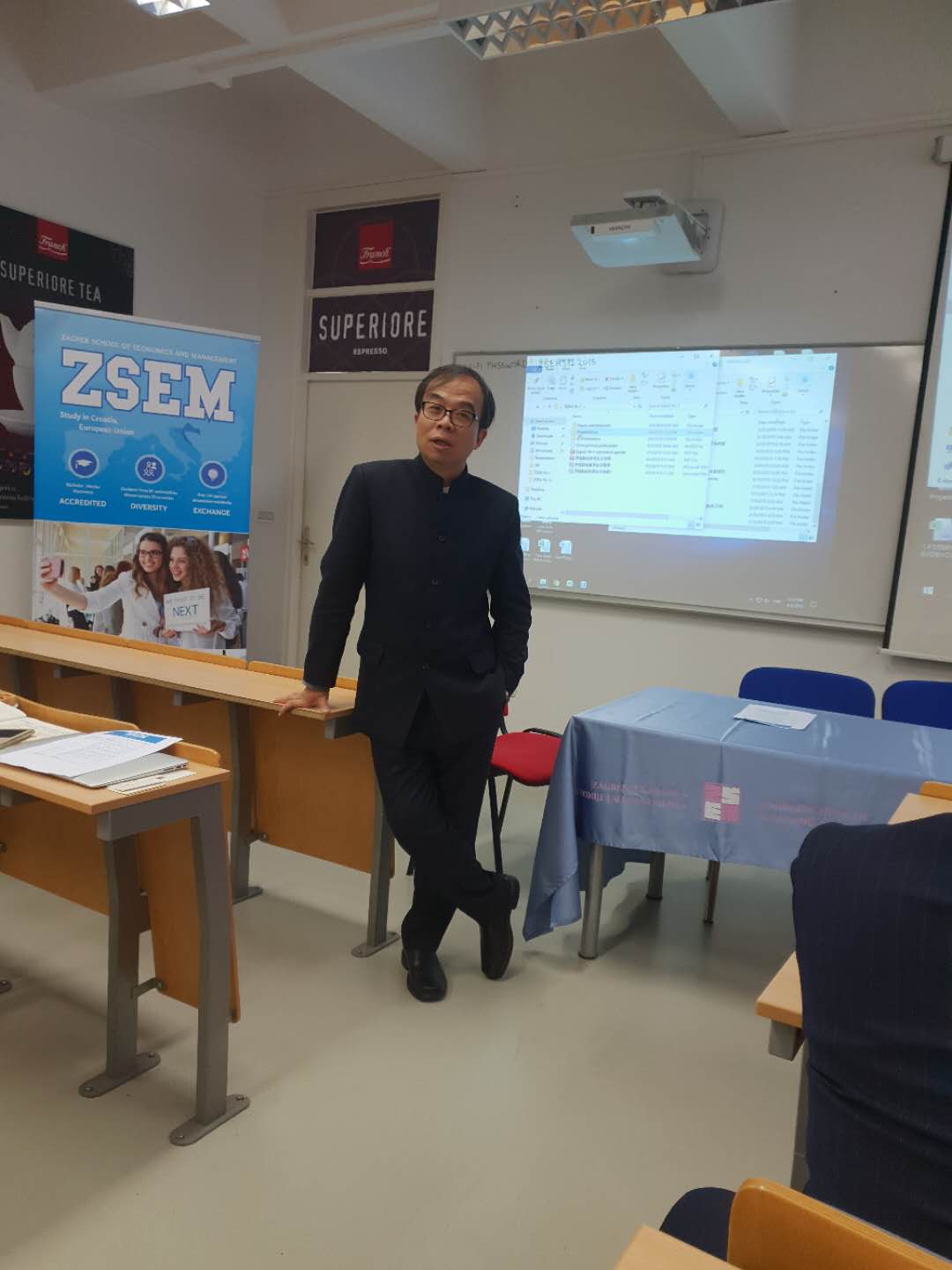 Prof. Huang Ping, the Director General of Institute of European Studies, Chinese Academy of Social Sciences(CASS) and President of China - CEE Institute stresses the importance of "16 plus 1" cooperation which has power to deeepen economic, academic and cultural exchange between China and Europe.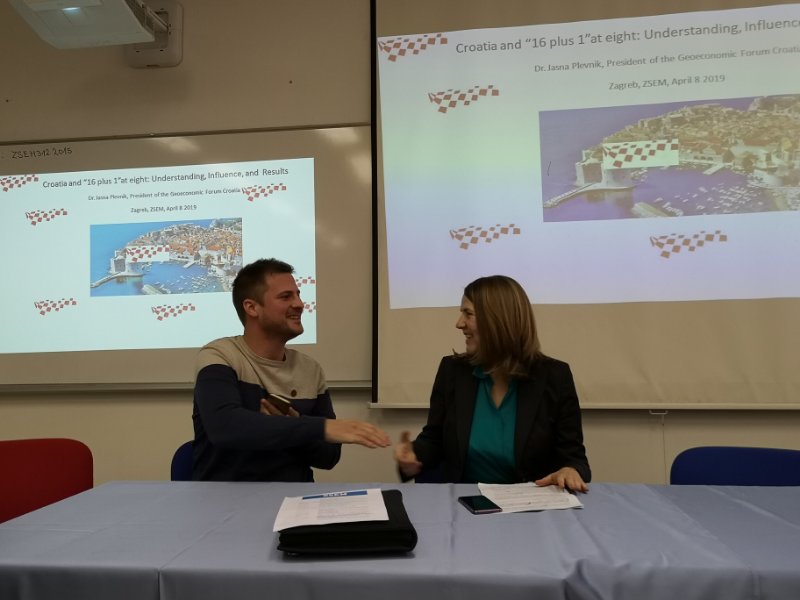 Ivica Bakota and Jasna Plevnik at the Conference 2019.