Dr Jasna Plevnik attends CASS's webinar on China-CEEC Cooperation in the pandemic context
Details
Jasna Plevnik, President and the founder of the Geoeconomic Forum Croatia, a think tank dedicated to providing understanding of international affairs, during the discussion stressed that the pandemic has power to move the world away from economic interdependence and moving it towards fragmentation.
Plevnik stated that 17 plus 1 think tanks network has been daily engaged in reporting on the epidemic in Central and East European countries. - There has been no a pause in the network 's activities so kudos to the network- said Plevnik.
She described the current pandemic, economic and geopolitical situation as a "difficult to understand", explaining that "we know the pandemic will influence the 17 plus 1, but it is pretty early to have clear ideas on how deep it will be. Humans have poor capacity to anticipate the future and the Covid-19 has yet to be battled," Plevnik said.
"However, to discuss further activities and positioning of the 17 plus 1 in this new context we should start with the results of the cooperation before the outbreak. The cooperation developed significant economic, cultural and scientific ties that positively have influenced Europe and China relations. These relations essentially differ from the US - China relations which are currently pretty fragile, and it is expected there will be more competition and confrontation between them. Recently has been published a Republican party memo, which advised candidate to aggressively target Beijing on the pandemic.", Plevnik added.
"The positive history of Europe – China relations gives steady position to 17 plus 1 cooperation what is fundamental for its activities in next year. The cooperation is now entering into "deep-water period "as Professor Liu would stress. That period includes among other things the cooperation's reading of post Covid-19 tendencies in international relations.
Economic consequences of the pandemic might encourage changes that could be long term and unfavourable for the cooperation. Deepening of economic crisis in Europe could make more attractive values of economic nationalism and bring more strict regulation to investments and trade. It could be damaging not only for 17 plus 1 or the BRI but for the whole economic world order that has been built since 1990s as economically interdependent and multilateral", Plevnik stated.
Investment relations could become more confrontational between the EU and China, between the EU and the US
Commenting on economic relations between economic powers Jasna Plevnik said, "There is a real possibility that investment relations become more confrontational between the EU and China, between the EU and the US, and even inside the EU. I am not talking on the new EU regulation for the screening of foreign direct investments but on some EU, member states decisions to propose their own new regulations of investments that would apply even to intra-EU transactions."
"The EU shows it has financial capacity to respond to a crisis of such proportion but has not presented yet its interest in financial solidarity.
It appears that the eurozone countries are in better position than the eight countries outside the eurozone that have no approach to recently established a 500 billion euros Fund. Croatia or Bulgaria cannot offer the same level of support for their citizens as France or Germany. The Western Balkans countries, which are in the process of the accession, cannot offer the same level of support for their citizens as Croatia. They need bigger economic support of the EU in forms of grants for economic recovery," Jasna Plevnik explained.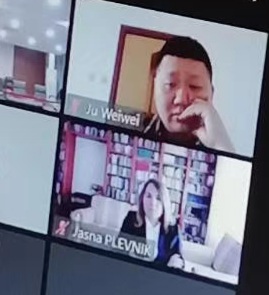 Jasna Plevnik's 4 suggestions at the webinar
"First, a post-pandemic strategy of 17 plus 1 could stress directly that China will maintain the 17 plus 1 cooperation as one of its strategic frameworks for its relations with Europe. There is fear in Europe that China's economic contraction and external challenges and restructuring of global supply chains could endanger 17 plus one and Belt and Road Initiative activities. Beijing summit seems a perfect place for sending a message on sustainability of 17 plus one and the BRI.
Second, Beijing summit could discuss possibility of protecting its projects and partners through establishing a new Covid -19 fund and recovery programmes. If the cooperation's projects could be put on hold because of a severe budget shock from the spread of COVID-19, it would slow down 17 plus 1 cooperation.
Third, the cooperation must defend strongly multilateralism that is a vital feature of 17 plus 1 cooperation. The world is globally connected and only global answer on the Covid - 19 will help to solve the crisis and prepare the world for next pandemic properly.17 plus 1 should publicly support the WHO and the UN as central organisations in defining global approach to the pandemic.
Fourth, now is right time for 17 plus 1 think tanks network to work together with other think tanks networks, for instance with the SiLKS, on developing of theory of community of human destiny that is China's global vision for the world, launched three years ago. That concept has potential to modernise international relations and emancipate them from old pattern of power politics that is based on theory of realism.
The world should become more dependent on interest of the humanity. Building a theory on community of human destiny could be a contribution to theories of international relations and fundamentum for upgrading the world order. "