Jasna Plevnik Gives Speech at 2021 World Internet Conference Wuzhen Summit
Details

Dr. Jasna Plevnik, President of the Geeocnomic Forum Croatia, delivered a speech on Global relations and the Role of Think Tanks in the Digital Era. The Forum was moderated by Li Yuxiao and David Robertson, and among participants were among others Jiang Xiaojuan, Professor and Dean of the School of Public Policy and Management of Tsinghua University, John Allen President, The Brookings Institution, Jun Murai Professor of Keio University, Founder of WIDE Project, David Blair Vice President and Senior Economist, Center for China and Globalization,Frederick Douzet, Director of GEODE, Paris 8 University; Commissioner, Global Commission on the Stability of Cyberspace.A full list of participating speakers can be found at this link:
https://sys.wicwuzhen.cn/dist2021/#/about?luntanId=592717519404535808&lang=en&type=2
The power politics concept surrounds and influences the economic and technological structures of the world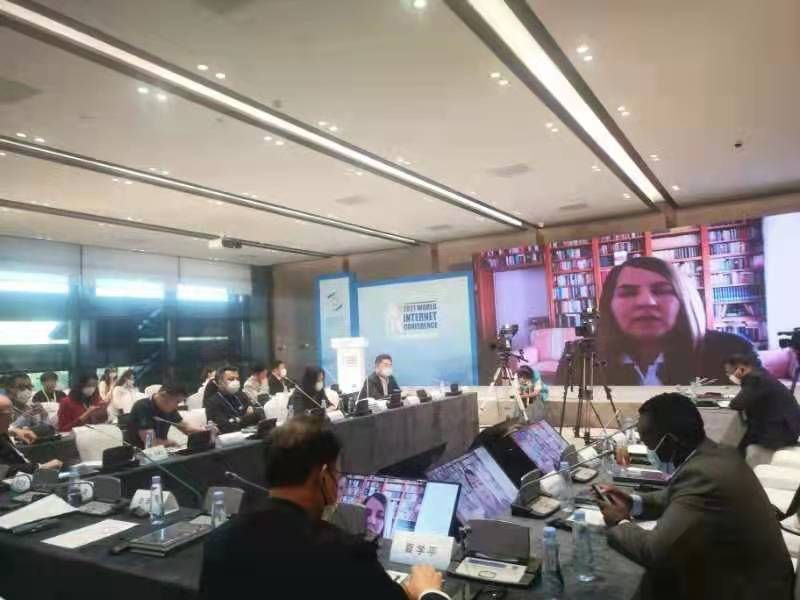 Dr. Jasna Plevnik said in the introduction that she is very honoured to address the Forumfrom her city Karlovac where Nikola Tesla attended high school. "As you know Tesla invented many epochal things and predicted smartphones in 1926, also video Livestream. Tesla had a dream about the connected world. And I believe we all at this Forum shares his dream too!
Whether it is about geography or cyberspace both spaces need the world that is connected and balanced", Jasna said.
She underlined that "For think tanks in the digital era is crucial to research policies and cases that could lead to deeper strategic and economic connectivity of the world. I know that subject is less visible in real life than at seminars and conferences."
Jasna Plevnik added that "Today we see further erosion of interconnection in the economic and political fields. Technological competition among economic and strategic powers has become stronger than in the last decade as well as their focus on making their norms global how could rule and control cyberspace.
These goals may look modern to someone, but they discover that the current world order, as the orders before, has been settled on an old zero-sum approach. And for me, it is painful that the power politics concept surrounds and influences the economic and technological structures of the world in the 21st century. The interest of the superpower to put their interest over the interest of other nations or the international community is aggressive in its essence."
Jasna Plevnik compared geopolitics to digital technology, stating artificial intelligence, blockchain, and 5G capabilities have no power to transform that archaic power politics relations among states. Only political decisions on new kinds and values of relations among global powers and international organizations have the strength to dismantle that zero-sum approach.
The true nature of AUKUS is the conflict with China
She explained that It has been regretful for her that even peaceful economic power like the European Union today has cared how to stop "further erosion of its relative geopolitical power."
Dr. Jasna Plevnik also pointed, "Ten days ago the EU presented its Indo-Pacific Strategy which discourse on free navigation, digital governance, tackle cybercrime, connectivity does not sound geopolitically. But the answer to the question from whom the EU needs to protect its investments, trade partnership, and its security in Indo- Pacific region is deeply geopolitical"
The EU has been informed on the defence technology pact between Australia, UK, and the United States through the media. And that should be a strong message to the EU that its relations with its traditional allies have changed and that the real nature of that Pact is a confrontation with China".
The EU needs next generation of alliances
She underlined that "Lately, the EU has been talking a lot about the Next generation of European Union. Building the Next generation of the European Union asks of Bruxelles to swiftly make next-generation alliances in the Indo-Pacific together with China how they could contribute stability and connectivity there in the Asia Pacific and here in Europe.
China has launched the BRI, 17 plus 1, and China's leadership first in the world has proposed, at the UN headquarters in Geneva, a new concept for the world: a community with a shared future for mankind. These global models of cooperation, like the ideas of Tesla, have come from the future, and have the potential to eliminate the barriers brought to the world by geopolitics, eliminate the pain caused by poverty, unfairness, and protectionism and modernize the world order. That topic should be discussed by think tanks in the digital era.
She concluded that The EU will soon present the new Global Gateway connectivity strategy, that will be launched at the next EU-Africa Summit in February next year.
That is good but the EUstrategy copies the Belt and Road in many ways which mean there are many serious reasons that The EU Gateway be in synergy with the Belt and Road in connecting goods, people, and services around the world.
To be stable and prosperous the world needs development sharing, data sharing, global standards, global technological infrastructure. Global connectivity is the only way to transform conflicting relations among states and stop trends of connectivity decay.
The Wuzhen summit was focused on promoting more digital civilization
The summit was co-hosted by the Cyberspace Administration of China and the People's Government of Zhejiang Province, which was held from 26 to 28 September 2021 in Wuzhen, Zhejiang Province, China. http://www.wuzhenwic.org/
President Xi Jinping sent a congratulatory letter to the 2021 World Internet Conference Wuzhen Summit, noted that digital technology is being fully integrated into all fields and the whole process of the economy, politics, culture, society, and ecological civilization construction with new ideas, new forms, and new models, having extensive and profound impacts on the production and life of humankind.
"China is willing to work with other countries to make the digital civilization benefit people of all countries and promote the building of a community with a shared future for mankind ", President Xi Jinping said in a congratulatory letter to the 2021 World Internet Conference Wuzhen Summit.
Nearly 2,000 representatives from domestic and foreign governments, international organizations, industry associations, global leading enterprises, universities, and research institutes from over 80 countries and regions, will attend the conference both online and offline.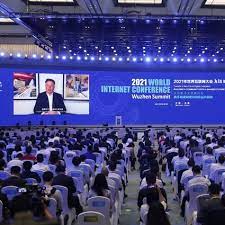 Elon Musk: "I believe data protection is not only an issue of one single company, but it should be a mutual effort for all industry players "
Elon Musk due to pandemic spoke by video at the 2021 World Internet Conference in Wuzhen on intelligent and connected vehicles. He spoke about autonomous driving using Tesla's neural vision network, data safety, Tesla China's data center, and Tesla's investment in China.
"Many people believe AI is the ultimate application of digital technologies and it will push human society towards a digital civilization. It seems likely to me that AI will both serve and be served by humans in a symbiotic relationship that I hope will benefit both digital and biological intelligence.
"Moreover, with the widespread use of humanoid robots, physical work will become a choice. AI-powered robots will help people eliminate dangerous, repetitive, and boring tasks. Most immediately, intelligent and connected vehicles are the next generation of internet devices that will transform our lives."
Musk also spoke on the future trends of Tesla's development in digital technologies, and how it would affect human and social development.
"Tesla is much more than an electric car company. We are developing full self-driving vehicles with practical, vision-based artificial intelligence, including chip development on the inference level and the training level. I should emphasize that we believe autonomous driving can be achieved entirely by vision neural nets. After all, humans are running a biological vision neural net to drive. So, it makes sense that […] computers will be able to drive by using a silicon camera neural net. "
Musk thinks that data security is key to the success of intelligent and connected vehicles. It is not only closely linked to an individual's interests but also matters to the whole society. At Tesla, we are glad to see many laws and regulations that have been released to strengthen data management.
"Tesla has set up a data center in China to localize all data generated from our business here, including production, sales, service, and charging. All personally identifiable information is securely stored in China without being transferred overseas. Only in very rare cases — for example, spare parts order provisions — is data approved for transfer internationally.
"I believe data protection is not only an issue of one single company, but it should be a mutual effort for all industry players. We are working with regulators on finding the best solution for data security ", Musk underlined.
Biden administration is shooting itself in the foot here by not wanting to acknowledge Tesla's achievements
"I really think that the Biden administration is shooting itself in the foot here by not wanting to even acknowledge Tesla's achievements. Why do I bring this up again? Because President Biden had this to say about EV production in China:
"We have a lot of catching up to do but we're going to be in a position where we ought to own the future. We ought to be the single most significant suppliers of electric buses and vehicles in the world before it's over. Right now, we're running way behind China."
Musk said the US only has had one very successful EV manufacturer, and that has been Tesla. "Yes, we also have Ford, GM, Rivian, and Lucid is newly on the scene, but for now, Tesla is the leader of the market globally and yet has been ignored by the Biden administration. If Biden wants to catch up to China, I think the administration needs Tesla's support. Snubbing Tesla isn't how you go about getting that, in my opinion. I was raised to have manners — you catch flies with honey and not vinegar.
I also have another, completely different thought. Tesla is morphing into a robotics company and is forcing the automotive industry to evolve. If Henry Ford was still alive, I think he would be thrilled to see the evolution that we are witnessing today, "concluded Elon Musk.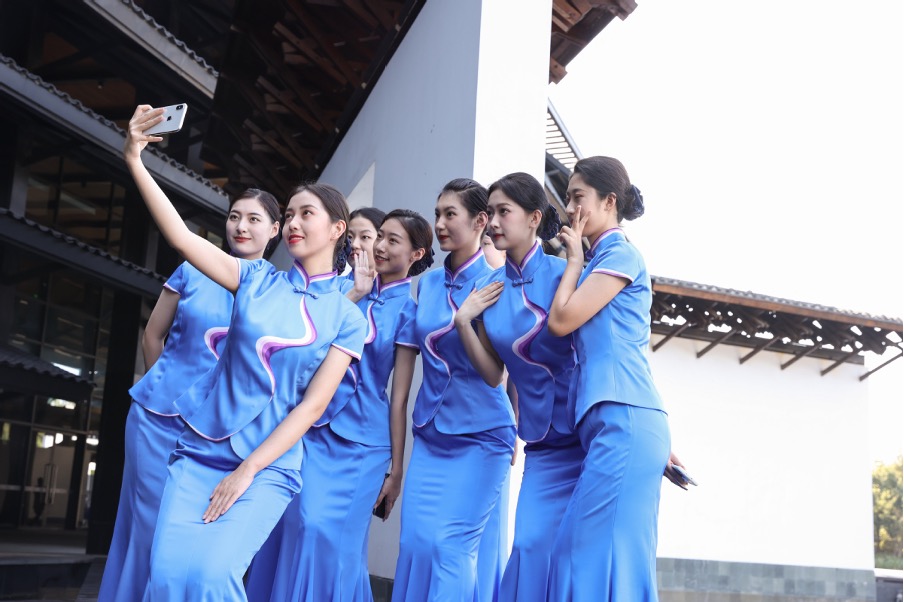 Volunteers in blue uniforms take a selfie in Wuzhen, A staff member at work in Wuzhen, East China's Zhejiang province. [Photo/IC]