Jasna Plevnik speaks at the International Conference on China and the World: Towards Building a Community with a Shared Future for Humanity
Details
H.E. Stjepan Mesić: China's grand strategy for building a community with a common future for humanity is "in sharp contrast to the geopolitical strategies of other global powers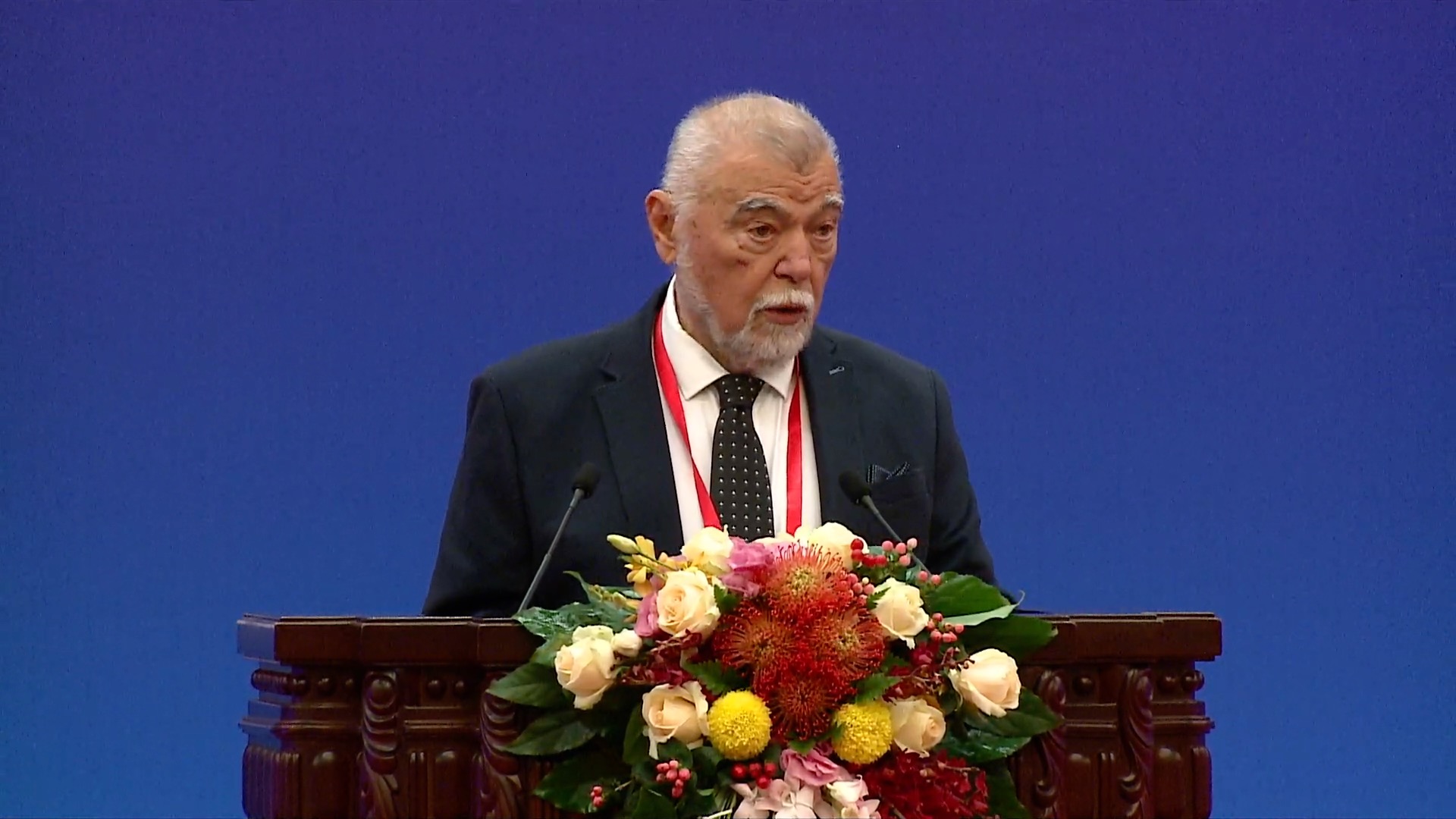 The former president of Croatia, Stjepan Mesić, was the first to speak among high-ranking foreign guests at the ceremonial opening of the Conference. He pointed out that Beijing has been working intensively on greater democracy in international relations, and China's grand strategy for building a community with a common future for humanity has been a modern approach to international relations that is "in sharp contrast to the geopolitical strategies of other global powers."
Jasna Plevnik speeks at the Conference: Only by moving towards true multilateralism the world can have a common future!
The following is the full text of Jasna Plevnik's speech.
"In the 1990s every speech on foreign policy started with the phrase "the end of bipolarism". Today's catchphrase is, and mine too, "the world order is changing ". However, these changes are still in an unfolding phase, so many of them are not very clear.American unipolar power is not strong as it has been, but new multipower global order has not been determined yet.
Leading global powers China and the US have different approaches to the world order and its significant part -multilateralism- which power to stabilise strategic and economic international relations losing its momentum.
China is convinced that changes in the world order must be made slowly, in a balanced way according to common principles, not by someone state's interests. Beijing's strategic vision is a world order subordinated to the interests of humanity, but it hardly could be reached without policies for radical strengthening of multilateralism and economic interdependence in the next decades.
China supports and develops traditional and modern multilateralism: financially, visionary and conceptually, and practically.
She is the second-largest contributor to the UN's regular budget and plays an active role in the organization which understands as a core of international relations. And that is why China has presented its modern diplomacy of multilateralism, which includes among others, the BRI, GDI, GSI, and the Global Civilization Initiative, in the UN. Those initiatives are significant in terms of improving multilateralism, interdependence, and multipolarity of the world.
Some of these initiatives are already implementing all over the world. They also could be understood as a key driver of China's grand strategy a Community with a Shared Future for Mankind. That concept inspires other countries because of its new approach to the world order, and its intention to historically resolve geopolitical competition between global and regional powers and speed up economic globalization.
To extend multilateralism further and make the world more multilateralChina has established relatively new multilateral institutions like development bank AIIB, NDB of BRICS to contribute prosperity and stability around the globe and in the financial scheme of things to creation of alternative currencies to the US dollar. China supports the G20 seeing it as a group that will lead to a new, more just, and equal world.
America not opposes to every multilateralism
The current USA approach to multilateralism lacks new visions and its old ideas on the benefits of globalization and economic interdependence appear as overruled by protectionism and deglobalisation. America was the designer of the World Bank but now the U.S. Congress won't put money into that institution seeing it as a waste of American money internationally. The USA's unipolar multilateralism has negative effects on global peace, security, economic globalization, and global supply chains.
But not all anti-multilateral ideas and events in the world order can be traced from the point of view of the US's geostrategic and economic motives and involvement.
America not opposes to every multilateralism and there are many things it shares with the world. It has maintained a leading role in other parts of global multilateralism, like climate change or cyberspace.
However, America explains China's multilateral initiatives and the rise of non-Western countries' economic and strategic influence on global relations as long-term threats to its primacy in the world order.
In 2020, Brazil, Russia, India, China, and South Africa together contributed nearly 31.5 percent of the global GDP, compared to 30.7 percent by G7 countries.[1]
Those countries, which some call "the rest", want real multilateral rules not those written by the United States and its allies. Brazil and other countries from Latin America, and Africa want global political and financial global institutions to be reformed and change the place of their headquarters. They support President Xi Jinping's multilateral policies because China wants all parts of the world to work successfully while Washington does want a successful USA and some of its allies.
The EU is still globally recognised as a leading practitioner and supporter of multilateralism and the multipolar world but its bilateral relations with China follow the US's approach to China, such as misinterpretation of Chinese global initiatives. Here we can see a contradictory side of Brussels' multilateralism which by following the USA policy towards China strengthens the unipolar side of the world order!
Latin America and Africa want more reciprocity in relations with the EU. Brazil announced recently if the EU wants a trade agreement with the South American bloc Mercosur it needs to give up its protectionism.Brazil thinks the EU punishes every country that does not comply with the Paris Agreement on climate change, but it does not respect that agreement either.
The EU can have full strategic autonomy!
For now, the world is in a process of division into countries that work to shape the world order as true multilateral and multipolar, those that follow America's unipolarity, and those that want both the strategic alliance with America and a multipolar order.
Leading EU countries France and Germany are aware of the establishment of new global institutions and economic alliances, and the non-Western countries' new positioning in the world order that challenges the US-led "unipolar multilateralism".
Both countries are interested to balance their strategic dependence on the US with their interest promoting in building an explicit multipolar world order. That is a difficult mission, if at all is possible. But it is also simple, if the EU would have more d confidence in its ideas about the world and courage to reject the prejudice that it cannot have full strategic autonomy. Of the 31 members of NATO, two are North American countries and 29 are European countries.
The French president could be the first Western leader to attend the BRICS summit to be held in South Africa in August. We should not have too high expectations, but if this happens, it could mark a small but important new step towards multipolarity and the strengthening of multilateralism.
Instead of Conclusion: Long live multilateralists and peacemakers!"
---
[1]See https://www.business-standard.com/economy/news/brics-surpass-g7-gdp-india-china-major-economies-with-fast-growth-123042000484_1.html
The session 4 was chaired by Zhongping FENGDirector-General of Institute of European Studies, CASS and Sumith Nakandala, Former Additional Secretary, Ministry of Foreign Affairs in Sri Lanka.
SPEAKERS: Viktor Larin, Academician of Russian Academy of Sciences, Vice-Chairman of Far Eastern Branch of Russian Academy of Sciences; Evandro Menezes de Carvalho (Video)
Head of the Center for Brazil-China Studies at Getulio Vargas Foundation, Brazil: Sergio Rivero, Regional Coordinator of International Cooperation and Research, and Director of the Contemporary China Chair at Latin American Faculty of Social Sciences (FLACSO);YAO Zhizhong, Deputy Director and Senior Fellow of Institute of World Economics and Politics, CASS; Ariela Ruiz Caro, Researcher from Peru of the Latin American Council of Social Sciences (CLACSO) Working Group 'China and the Map of World Power;
Sumith Nakandala, Former Additional Secretary, Ministry of Foreign Affairs in Sri Lanka; Director of the Centre for Indo-Lanka Initiatives of Pathfinder Foundation; Michael Dunford, Emeritus Professor of School of Global Studies, University of Sussex, Visiting Professor of Chinese Academy of Sciences; Rui Lourido, President of the Observatory for China; Alberto Bradanini (Video), Former Italian Ambassador to China; Marsela Musabelliu, Executive Director of Albanian Institute for Globalization Studies; REN Lin, Senior Fellow of Institute of World Economics and Politics, CASS; Gjergji Sinani, Executive Director of Albanian Institute of International Studies; Xin CHEN,Senior Fellow, Deputy Director of Institute of Information Studies, CASS and Fazal Rahman,Executive Director of Understanding China Forum, Pakistan( Concluding remarks).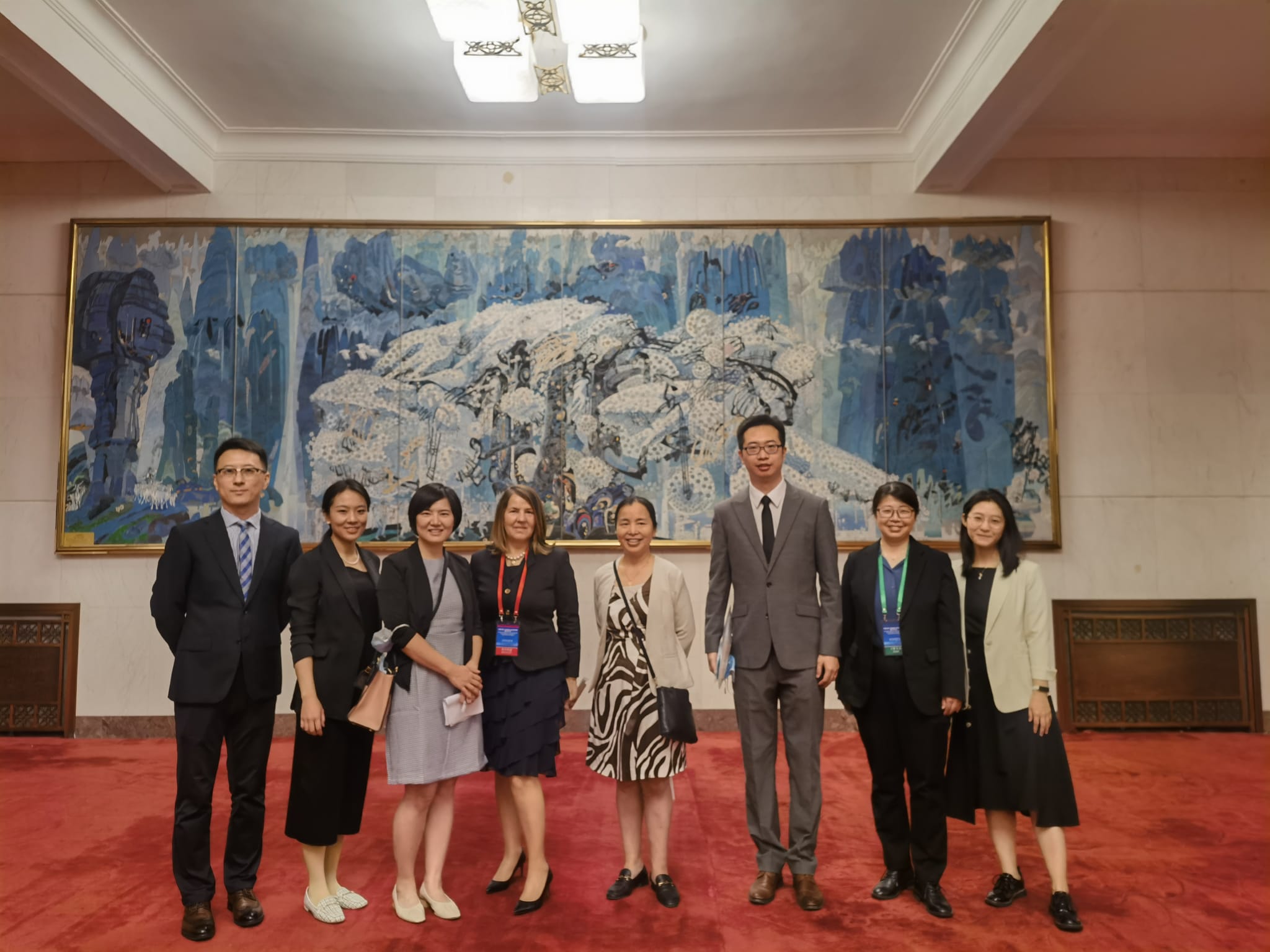 The Great Hall of the People: Jasna Plevnik, the experts and translators from CASS, without whose great support tf the Conference would not have been so splendid.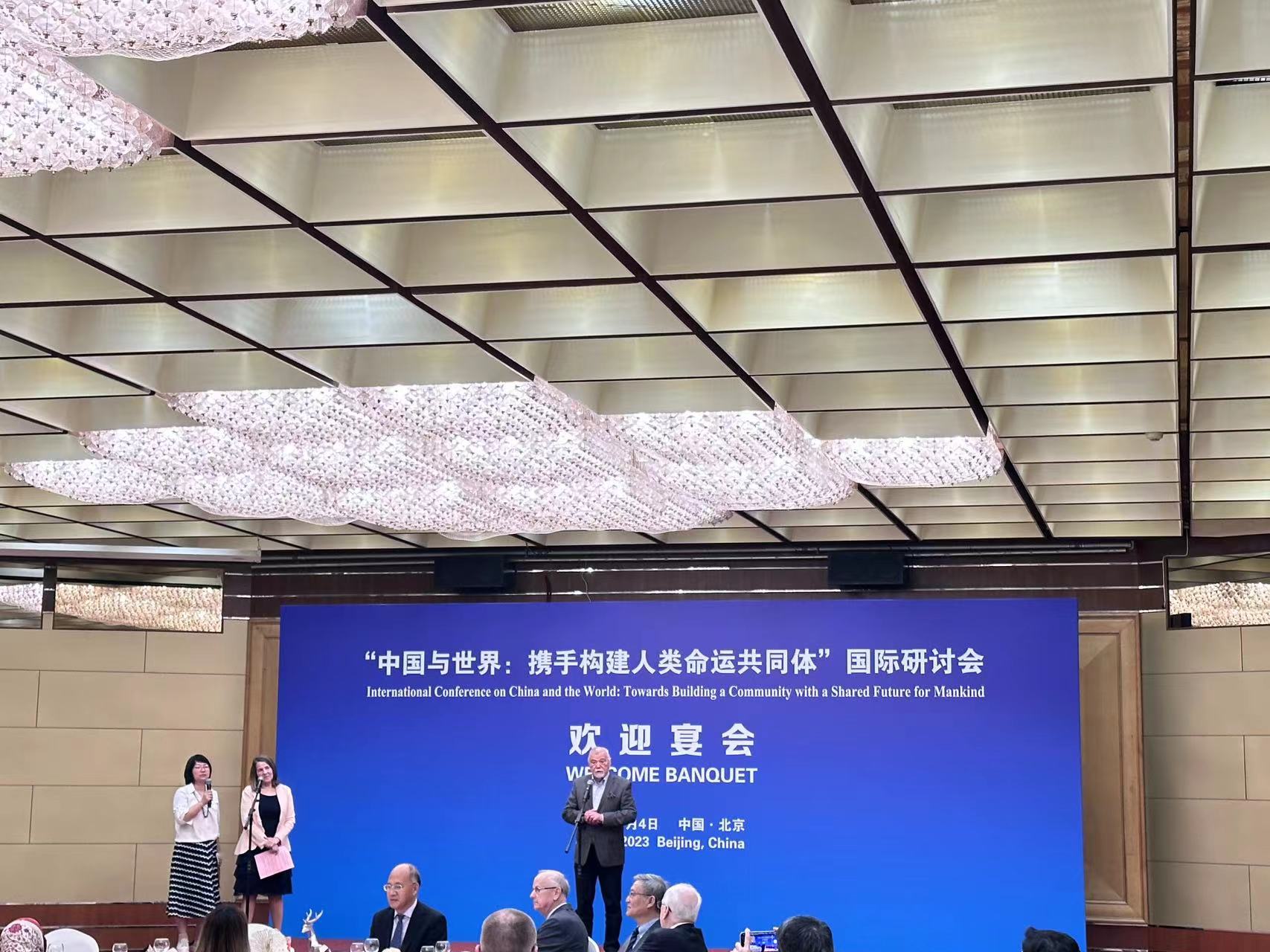 Welcome Banquet: Vice-President of the Chinese Academy of Social Sciences Zhen Zhanmin prepared a banquet for distinguished guests of the Conference, among whom were former President of Croatia Stjepan Mesić, former Deputy Prime Minister of Poland Grzegorz W. Kolodko, President of the Geoeconomic Forum Croatia Jasna Plevnik, General Director of the CASS Institute for World Economy and Politics Academician Zhang Yuyan, Yang Geng, Former Vice rector and Professor at Beijing Normal University, Kenneth M. Quinn, Victor Larin, Vice -Chairman of far Eastern Branch of Russian Academy of Sciences, Wang Lei, Director-General of Bureau of International Cooperation, CASS, Zhao Jianglin, Deputy Director-General of Bureau of International Cooperation, CASS.