CSEBA and the Chinese Embassy to Croatia organise a business seminar
Details
Zagreb – The Chinese Embassy to Croatia and CSEBA (Chinese - Southeast European Business Association) have organised a seminar entitled "Silk Road Economic Belt, the 21st Century Maritime Silk Road". The Croatian Tourism Deputy Minister Davor Izakovic stressed that the recent visit of Croatian officials to China expressed their intention to bring more Chinese tourists to China.
Economy and Trade Counsellor at the Embassy, Liu Kai, said that 2014 will be the first year in which Chinese investment abroad will outbalance FDI to China. China is Croatia's biggest foreign trade partner outside Europe and the trade between the two countries is marked by the high deficit on the Croatian side. Croatian companies should be bolder in trading and investing in China, Liu said.
Dr Jasna Plevnik from the Croatian Chamber of Commerce said to participants of the Seminar that New Silk Road could be explained as a new phase of economic interdependence of the world. She thinks that China is now in a position to be a subject of globalization processes and one of the leaders in economic integration of the world.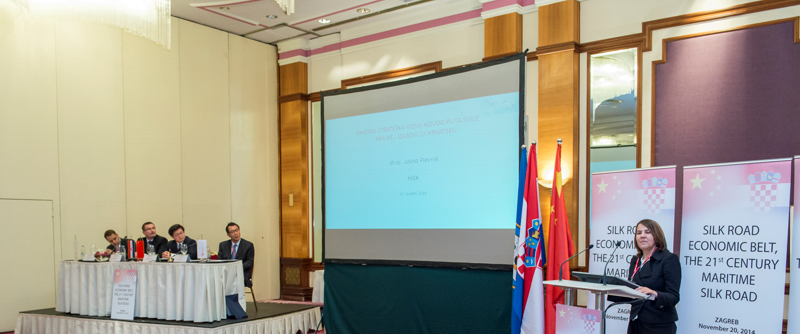 – The core values ​​of Chinese foreign policy are peace, cooperation, stability and economic development for itself and other countries, and all these values are included in "the New Silk Road" project.
The strategic goal of China is building and promoting a state of multipolarity in international relations. The New Silk Road implementation will depend on support of all countries in Asia, Africa and Europe, and free trade blocks such as the EU, ASEAN, and APEC. So, the recent agreements signed at the summit of APEC, especially the agreement of China and the USA, and China and Japan are very important.
Direct investment of China abroad was 108 billion dollars (the third largest investor) in 2013, and that is a number which should be interesting for Croatia hungry for FDI.
Croatia's perception of the world is reduced on the EU and the US, but the world is much bigger picture than that. It is wrong to think that the Croatian membership in the EU is limiting factor for the Croatian cooperation with China. The highly developed EU countries such as Great Britain, Germany and France have received more investment from China than countries from Central, East, and Southeast Europe.
It seems that in Bruxelles there is a dual criterion for cooperation with China, and it should be changed.