"Oil - Blessing or Curse" book presented
Details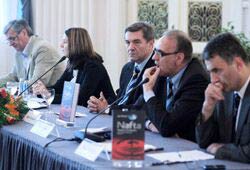 ZAGREB - the book "Oil - Blessing or Curse" by Igor Dekanic a professor at Zagreb Faculty of Mining and Geology was presented in Zagreb on May 23rd 2007.
An academic Mirko Zelić, an expert on terrorism Pavle Kalinić, the vice president of Geoeconomic Forum Dr. Jasna Plevnik and the author spoke about the book.
"Today it is much more difficult to write about the globalization than in the beginning of the 90s when the idea to the phenomenon conquered the world, because intellectual scepticism has been growing." said Dr. Plevnik who spoke about the chapter referring to globalization.
In the Dekanic's book the stress is put on the so called "oil globalization", that is, on describing the relationship between oil companies and globalization. As an important point in this relationship, the author interprets the secret meeting of leaders of the world oil companies in 1928 in Scotland where the division of oil market and global price were agreed on.
Dr. Plevnik also said that no matter how popular the assumptions about the end of globalization are the events that generated globalization are still very important to the world, although there is crucial difference between the globalization in the 90s and recent processes of economic interdependence of the countries. This interdependence has moved from the direction "West-and-the others" towards the direction which could be called "China-and-the others". Although extreme conclusions about the Asian era should be avoided, including China into capitalist social relations caused imbalance that worries America.
"This book", Dr. Plevnik pointed out, "puts an especially important question: What is the purpose of globalization if none of essential issues of the world has been solved, and the possibilities for the development of small and poor countries are even more difficult?"
"The creation of righteous globalization is not the aim of the global government G-7, because rich countries did not found the World Trade Organization to root out poverty, there are millennium accounts and humanitarian concerts organized by Bono and Geldof for that purpose, which means that an unjust globalization will go on.