The War in Iraq became a war between the East and the West
Details
A distinguished journalist Yasin Rawashdeh* delivered a lecture Tri godine poslije: Irak - rat, teror i mir on 27th March 2006 in Karlovac.
He said that Americans are capable of waging the war but have problems with building the peace. They have demonstrated it in Iraq through a fatal decision to dismiss Iraqi army and police. According to Rawashdeh that wrong decision has resulted in the chaos on the ground.
"The current conflict in Iraq will have consequences for the whole world because the war between the United States and Iraq became a war between the West and the East. Unfortunately, extreme conservative dark forces of both sides covet such kind of development. But I think that the quiet majority is against the clash and Bush and Bin Laden are not majority" he stressed in his excellent Croatian language.
Rawashdeh also presented Iraqi exceptional civilization history and compared it with the modern time full of political and economic overturns.
The audience was also impressed with Yasin Rawashdeh's liberal democratic attitude toward cultural diversities that couldn't be, as he said, seen as issue of conflict.
President of Geoeconomic forum Academician Zvonimir Baletić said that opposed to the past times when subjects of world politics were national states today's subjects have become almost everyone: from business companies to individuals. This process makes world relationships much more differentiated and complicated.
" In the world in which economy dominates Geoeconomic forum has a big job in front of itself: to make people conscious of these new circumstances and help that all together will become subjects not objects of the world politics.
Ambassador of Malaysia to Croatia H.E. Dato' Azman Mohd Nazir and representatives of Embassy of Libya to Croatia attended the Lecture that was organized by Geoeconomic forum.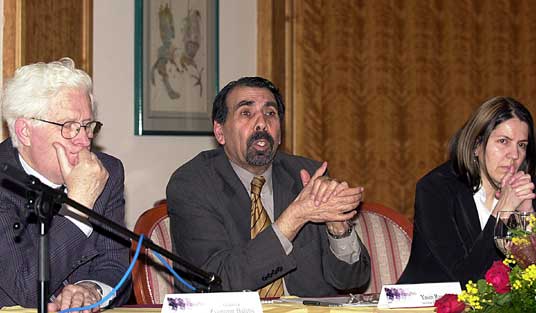 *Yasin Rawashdeh is an expert for the Middle East, The Balkans and the human rights. He is a counselor of the government of the Bosnia and Herzegovina for economic and political cooperation with Arabian countries. As a visiting lecturer he held many lectures about Middle East crises, relationships between East and West in the context of human rights violations at various universities and institutions in the Middle East and Europe.
He is a general coordinator of campaign Civilized Dialog-Culture of Peace established in February 2006 as reaction after a cartoon of Prophet Mohammed was published and provoked stormy demonstrations in Moslem countries.
He worked as Director of Kuwait News Agency (KUNA) for South East Europe which is correspondent currently. He was an adviser and attaché in Embassy of Kuwait to former Yugoslavia. Speaks Arabic, English and Croatian language. Currently works and lives in Sarajevo.