Croatia – China Relations in Numbers
Details
Trade in Goods
Available years: 2010, 2011, 2012, 2013, 2014, 2015.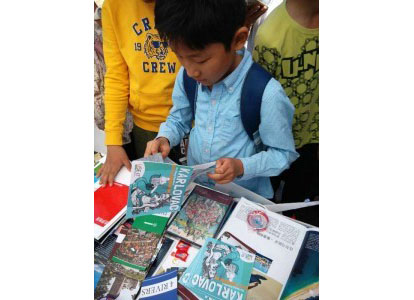 The Beijing universities organized on early May 2016 the 13th Day of the national culture. The Day is an ideal opportunity for all foreign students to present to Chinese visitors their own states. Valentina Furdek, a third year student of Chinese language at theBeijing Language and Culture University, from Karlovac, and her roommate Marta Mikša, from Zagreb, presented Croatia's natural beauties.
Photo by Valentina Furdek
The Croatian Bureau of Statistics' (CBS) data on foreign trade with China from 2010th to 2105th year are attached. When Croatia on 1 July 2013 became a member of the European Union a methodology for monitoring of imports and exports has changed, so that data are not fully comparable. The main change is that, if goods enter the territory of the EU, for example, the port of Rotterdam, there is cleared, regardless of the country of the EU is intended. Croatia shows these Chinese goods as an intra - imports from the Netherlands (EU). Therefore, the quantity and value of goods imported from China is much lower than before entering Croatia to the EU.
Croatia mostly imports from China machinery, electronic equipment, various finished products, and base metals (iron, copper, aluminum, etc.) Croatia exports on the Chinese market machines and devices, and wood and wood products (about 60% of exports each year is concentrated in these two sections). The biggest exporters should be looked for in these activities.
Croatia's statistics on merchandise trade in goods is based on two different sources: the Intrastat (trade statistics between the Member States of the EU), and the Single Administrative Document for trade statistics with non-member countries of the EU (Extrastat). The annual data for total exports and total imports are in millions of kuna, millions of euros and millions of US dollars.