JASNA PLEVNIK FOR NACIONAL "CROATIA SHOULD NOT MISS INVESTMENTS FROM CHINA"
Details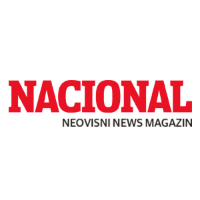 6-6-2017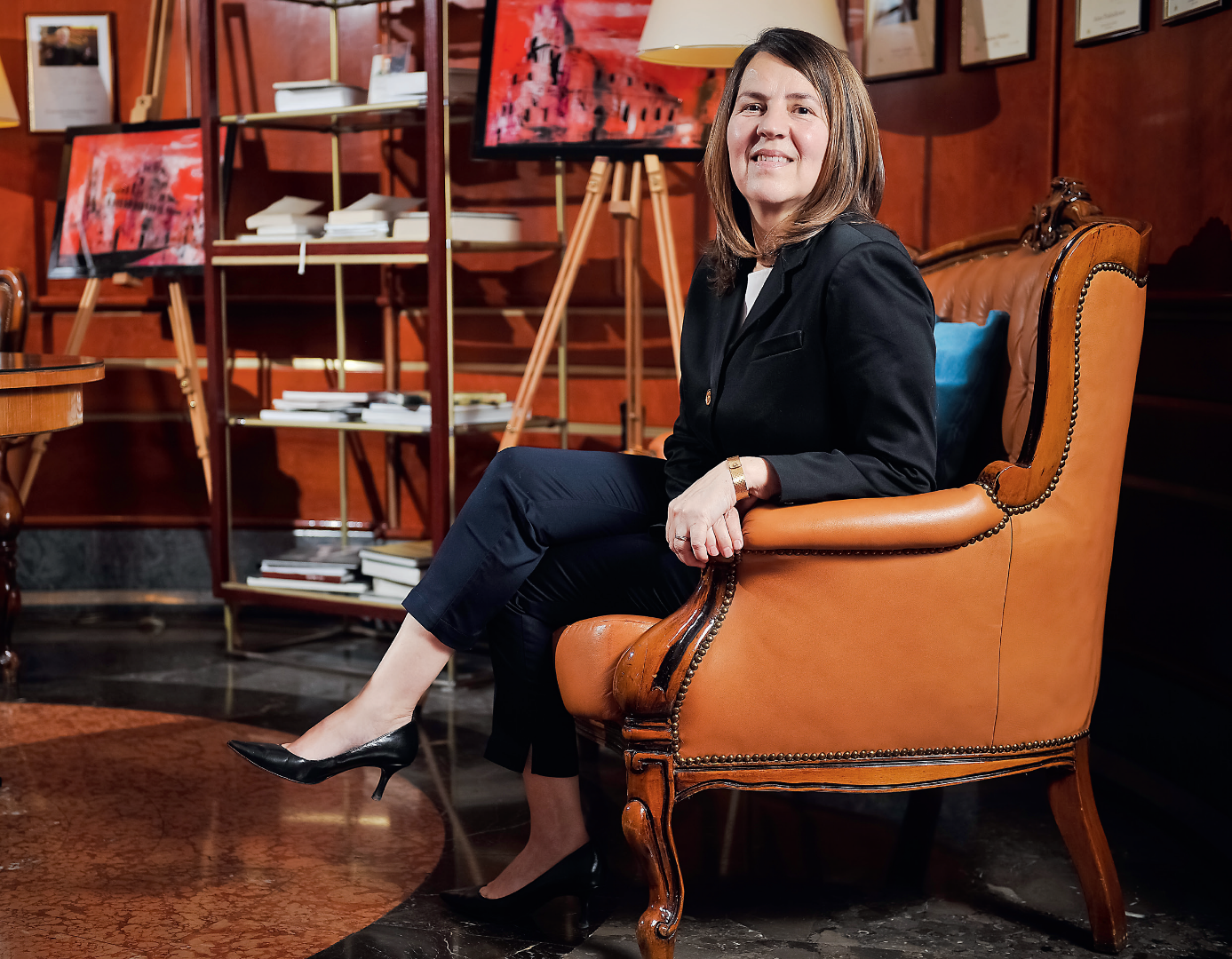 "We have a paradox that America's President Trump hampers processes of the economic globalization, "says Jasna Plevnik, Vice-president of the Geoeconomic Forum, a think tank from Zagreb, involved in the big Chinese project the " Belt and Road Initiative "(BRI).
"CROATIA SHOULD NOT MISS INVESTMENTS FROM CHINA"
Text Dragan Đurić, Photograph: Saša Zinaja, Photos taken at Palace hotel, Zagreb
The US President announced last Friday his key election promise - America would withdraw from the Paris Climate Agreement. At the same time, the announcement renewed discussion on reasons of that decision that actually could reduce jobs for Americans in the green economy. The US President's explanation of the decision has troubled Jean-Claude Juncker, the president of the European Commission, who openly rejected President Trump's argumentations. Trump argues that global warming is a scientifically unfounded construction created in China's political laboratory that, allegedly, causes to America substantial economic damage.
ONLY TWO WEEKS prior to President Trump's decision, China demonstrated, in Beijing, May 14 and 15, 2017, at the first Belt and Road Forum, its global economic diplomacy offensive "One Belt - One Rod ", called by China's President Xi Jinping "the project of the century "is strongly oriented towards development of green economy, growth of new jobs and linking of Asia, Europe and Africa with a new model of shared growth. What was once the IT revolution for development of the world now it could it be green economy encouraged by BRI.
An essential question is where Croatia stands in that new international relations reshuffling? The Chinese President Xi Jinping, at the opening ceremony, promised China would invest $ 124 billion to finance the New Silk Road and from that $ 14.5 billion would go to the New Silk Road Fund for soft loans, while about $ 9 billion would be used for helping developing countries along the Belt and Road.
The "One Belt, One Road" development diplomacy is also funded by the Asian Infrastructure Investment Bank (AIIB), the New Development Bank of BRIKS and the China Development Bank. They plan to invest nearly $ 1 billion in more than 900 projects, in more than 68 countries to support the BRI's implementation. Many "Belt and Road" projects are already being implemented, but for an overall evaluation a long time period has to pass that means the BRI's cardinal goals will be not achieved before 2049.
Anyway, these are respectable dollar amounts. Dr. Jasna Plevnik, Vice-president of the Geo-economic Forum, a think tank from Zagreb, who is part of the world-wide network of think tanks involved in the BRI project, talked on Chinese investments for the weekly "Nacional ".
– Last year, China invested about 180 billion euros abroad and borrowed nearly 100 billion euros. While China will have a current account surplus of 2 to 3 percent of its GDP it is possible to claim Chinese significant investments in Europe will continue. Nevertheless, it does not mean golden opportunity for attracting Chinese capital will last forever.
Last year, Chinese investment in the EU grew by 77 percent and amounted to 35 billion euros, of which 11 billion euros was ended in Germany for the purchase of high technology and smart factories. In 2015, China and the EU began talks on China's contribution to the European Fund for Strategic Investment s(EFSI) whose goal is to mobilize at least EUR 315 billion of private investment by 2018.
China's perception of Europe future is optimistic despite the Greek economic crisis, Brexit, the refugee crisis and terrorism. The Chinese prime minister Li Keqiang said in Brussels the future of China and the EU would be fantastic. The world needs such an optimism and Élan vital or vital force in this dark time when many children live worse than their parents.
AMONG THE MOST INFORMED on Croatia's stances and its actions towards these new tendencies in international relations is certainly Jasna Plevnik, Vice President of the Geoeconomic Forum.
– We live in a contradictory moment. There are many signs that the next decade may have been very different from the last 25 years. The West has entered into division's processes, the US administration is relatively hostile towards policies of sustainable development, free trade and, NATO partnership is fragile. The leading intellectuals in America believe the country is no longer a "full democracy".
It seems to me for the world could be a good thing that these negative tendencies are happening now when China is economically strong, globalized, and advocates for a new phase of the world development through green economy. We have to stop think America is material or civilizational superior to Asia and Europe.
China supports a new phase of economic interconnection of the world, but wants to pursue these processes together with Europe and its neighbours in order to avoid fall of free trade ideology and practice and stop returning of economic nationalism in the world economic order.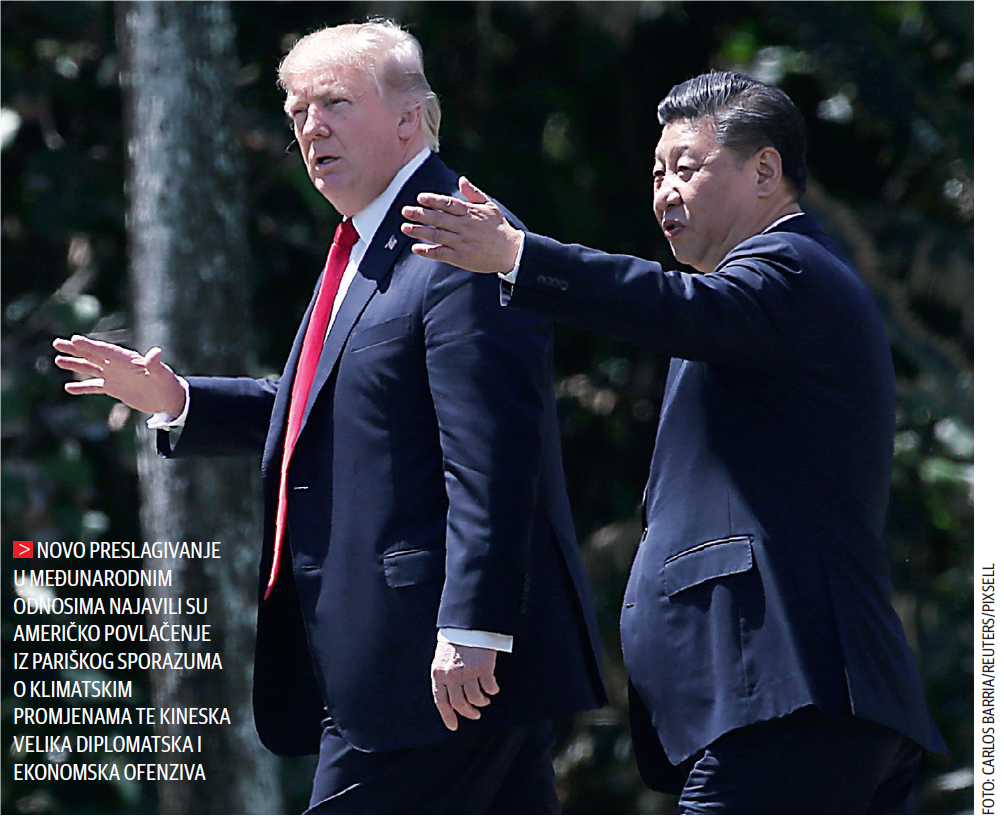 Whilst America increasingly withdraws from the world stage, China transforms itself from an object of globalization into its key subject. China claims it does not want to take leadership in the world following the American unilateral way but to follow "Win-Win" for bringing economies, people and civilizations together. It aims to implement 'One Belt - One Road through multilateralism and thus support development of the world order into direction of multipolarism. China has a similar view on the future of the world as the European Union, said Jasna Plevnik for "Nacional "
UN S.G. António Guterres, President of the World Bank Jim Yong Kim, President of the International Monetary Fund Christine Lagarde, attended the Belt and Road Forum in Beijing. Jasna Plevnik said that BRI project for the 21st century obviously has support of those global institutions that are promoters of the concept of sustainable development and economic interdependence.
The BRI is not aimed to make of economic globalization a replica of the Washington consensus's shaped globalization that has been unbalanced and unfair in many aspects. The new BRI's phase of making the world more interconnected has intention to develop future global economic relations following principle: "My victory is your victory". It means every country has to have benefits of economic globalisation not just some of them as it has been in the past two and a half decades.
In Beijing gathered 30 presidents of states and governments including Russian President Putin and Turkish President Erdogan, Italian Prime Minister Paolo Gentiloni, German Economy Minister Brigitte Zypries. It was a real inflation of VIP persons. China lists the 68 nations as partners in its Belt and Road Initiative. The Belt and Road Forum was a complete triumph of China diplomacy – said for Nacional Jasna Plevnik, who gave many interviews for Chinese media.
She talked with a delegate from Africa who told her that he had the feeling of witnessing to an emergence of the new world economic order and development of a better and fairer globalization. Jasna Plevnik also participated in a thematic session on linking development policies and strategies moderated by Li, Wei, Minister and President of China's leading think tank, the Development Research Center of the State Council, who invited her to be a delegate at the Belt and Road Forum.
IN BEIJING ALSO was as a personal envoy of Croatian Prime Minister, Marija Pejčinović Burić, minister of Foreign and European Affairs of Croatia. She signed a Memorandum of Understanding between China and Croatia on the Belt and Road cooperation on behalf of the Croatian government on the sidelines of the Belt and Road Forum.
Croatia supports the Initiative's aims to build better and more powerful transport and energy connections between China and Europe. Pejčinović Burić stated Croatia understood the BRI in the context of complementarity with Croatian Initiative of the Three Sea and the platform "China plus 16". She also met with representatives of Huawei, ZEG Financing Holding Corporations and Weltmeister Shanghai and had talks with a representative of Podravka in China.
FOR AN ASSESSMENT OF "the emergence of the new world order," Jasna Plevnik said: – International relations have entered a new phase. China has become a key subject of economic globalization. US President Donald Trump has spoken many times against free trade, but anyway he sent as his envoy in Beijing, Matthew Pottinger, National Security Council senior director for Asia. Pottinger said in Beijing that America has been working on forming a working group for "One Belt One Way".
Many business chambers in Europe and America are engaged in studying and discussing which benefits can entrepreneurs have from the "Belt and Road" that is open to all countries and in the end it could proof itself as an acceptable and attractive cooperation for to the whole world, not just for the three continents Asia, Europe and Africa. There is an all direction enlargement tendency of the Belt and Road that encourages me to think the USA and South America's countries will one day probably become the Belt and Road partners as well as Japan. The arrival of Pottinger at the Belt and Road Forum has shown America is interested in this global project and perhaps it could lead her to the AIIB. On the other hand, last year the General Electric, an American multinational company with 310,000 employees worldwide, made deals worth $ 2 billion under this Chinese initiative. In 2018, it planes to earn about $ 7 billion in the BRI market. The General Electric is just one of many American companies interested in the Initiative - said Jasna Plevnik.
To "Nacional" remarks that US President Trump wants cheap production of world-renowned brands to return from China to America to better address the unemployment problem, Jasna Plevnik says that serious US analysts do not think that this is a solution.
– In Beijing I talked with Jeffrey Sachs, a director of the Earth Institute at the Columbia University. He thinks the new US administration shows a great economic illiteracy when blames China for America's current account deficit. America's current account deficit, in his view, is due to low levels of savings and large foreign investment, not because of China.
The cause of America's unemployment is not because China turned itself in the 1990s, into the world's factory. America's technological and financial services development and, robots take off real jobs from the American workers, not China, explains Jasna Plevnik. After all, the export of China is largely export of American, European and Japanese companies that invested in China.
Now, China is, to a large degree, something completely different. It becomes famous because of its innovative strength and green economy. China has deeply transformed itself, what we, in Croatia, did not follow very closely. It's like we're living in some other time. We see the world how it was ten or five years ago not how it is now. Things have changed everywhere.
JASNA PLEVNIK POINTED OUT the problems in international relations can no longer be pushed under the rug.
–We have a paradox on the world scene. President Trump's administration, slows and hampers processes of the economic globalization while from 1990 until 2016, America was the leader in shaping the world as one place
America rejected a trade agreement on a Trans-Pacific Partnership (TPP) signed in 2016. The TPP, that did not include China, could be replaced with the Regional Comprehensive Economic Partnership (RCEP) which negotiations started in 2013, after the ASEAN 2012, Summit in Cambodia. There are expectations that this proposed free trade agreement) between the ASEAN members (and Australia, China, India, Japan, South Korea and New Zealand could be signed in November 2018.
China publicly demonstrates that it does not want ending of the economic globalization era. Now we can see, although the world needs improvement of binding protection of nature or fostering of sustainable development policies – America is continuing with policies that are creating a vacuum at the global level that is vital for people of all countries. It will, certainly, be fulfilled by China because that global agenda has become an essential part of its new global diplomacy.
China stresses its moving in that direction has no intention to copy America's unilateral way of leadership but to build, together with the European Union, international relations more based on multipolarity and multilateralism, " Jasna Plevnik says.
She also explains what she considers the main idea of the BRI: to strength the peace of the world through economic cooperation and growth.
– It is about Pax Economica - a concept aimed to foster relations between countries through stability and coordination of development policies making better life for people, and it should be the essence of every foreign policy.
According to that, Croatian citizens should also have to feel concrete benefits from Croatian diplomacy, from the country relations with other countries. Croatian diplomacy cannot and should not be just a place of cost and job mainly focused on symbolic presentation of the country abroad. The country's foreign policy should help people to live better and this economic component is crucial – said the Vice-president of the Geoeconomic forum.
She also talked to Nacional on Croatia' s position in that looming constellation of the international relations, pointing to some failures of previous governments. Jasna Plevnik thinks they did not have enough sense for unavoidable changes of the world.
Europe has entered a new era of Chinese capital's interest and it requires of Croatian political leaders to adjust their economic policies towards this trend how they could be able to secure both: to have benefits of this new stage of economic integration of Europe and China as well as to minimize potential of new risks.
WHERE IS CROATIA IN ALL THESE CHANGES Jasna Plevnik positively assesses the current government approach to China, od the President of Croatia, and of Stjepan Mesić, former President of Croatia, who, she thinks, is very well known and respected in China.
She said it was a harm the current government no uses Mesić's diplomacy experience, knowing of China and political connections in so-called "second track" diplomacy.
– The President Grabar Kitarović. during her visit to China in 2015, pointed out the complementarity between the Chinese initiative 'One Belt – One Road and the joint Croatian- Polish Initiative of the Three Seas: the Adriatic, Baltic and Black Sea, and called for a stronger co-operation – said Jasna Plevnik.
She also explained what has preceded this mega Chinese Initiative.
– In 2012, China launched a project for improving relations with Central and Eastern European countries named "16 plus 1 ", that also has included South East European Countries. China has started that diplomacy to make relations with this part of Europe more dynamical and deeper because it assessed they were in an imbalance unlike China's relations with high developed European states- Jasna Plevnik said.
– China has planned to increase investment, but also to improve trade relations with this part of Europe. What is advantage of Chinese investments? If Chinese capital builds a railroad somewhere abroad, it is also ready to provide goods for railways, roads and ports – explains Jasna Plevnik.
She agrees with Nacional claim that countries of Southeast Europe have been accused by EU administration that their cooperation with China might be destabilizing for the European Union.
– In 2013, ahead of the "16 plus one "summit in Bucharest, prime ministers of Central East European countries received warning letters from EU Commissioner for tradeKarel De Gucht. Now, situation is different and the EU is particularly interested in cooperation with China.
Croatia needs to reject those interpretations that China's relations with developed countries are purely economic, while China and Southeast Europe relations represent a geopolitical danger for Europe, that is, of course, nonsense. In life and politics, it is important to take advantage of the moment. Even this 'Belt and Road' opportunities will not last forever. Croatia should use that kind of relations wrapped in restoring of the Silk Road story. So far, the country has not been able to capitalize its geo – traffic position in full sense. Many in Croatia like to brag with the country's waters, geographic position calling them as the most valuable capital. They are Croatia's resources, and will become capital only when the country uses them for development – says Jasna Plevnik.
ACCORDING TO HER WORDS, Serbia has successfully adjusted its diplomacy to the circumstances of China's new multilateralism and investment's offensive becoming one of the leading China's partner in the Region which for now encompasses six countries: Bosnia and Herzegovina, Croatia, Macedonia, Montenegro, Serbia and Slovenia. Serbia specialised itself inside of "16 plus 1"format and became a center for coordination of investments in infrastructure.
– Serbia has strategic relations with China since 2009. In 2016, it abolished visa estimated that decision as a historic event for both countries. A direct flight from Belgrade to Beijing should be established. There is a great progress in Serbia – China relations. China's investment in Serbia's infrastructure has exceeded 5.5 billion euros and many other are in the pipeline.
Croatia is lagging behind, but China's investors are patient, which is part of Chinese tradition that spills over in their business culture. Confucius says speed does not bring good results, so Croatia still have a time to take advantage of the 16 plus one and the BRI – Jasna Plevnik is optimistic about future of Croatian-Chinese relations.
At the beginning of Milanović's government era COSCO SHIPPING offered an investment in the railway line and the Rijeka port, but agreement was not sealed. Fortunately, Croatia has other mega projects, such as, for example, the construction of a new Krk bridge and a new Krk port, which were recently promoted by Minister Oleg Butković. I see this projects as part of the "Belt and Road". At present, in Croatia only one project, the new bulk cargo Terminal in Ploče Port is realized, worth 40 million euros.
It is important for the country not to remain outside of these processes of building new economic corridors among Asia– Europe– Africa, that are in compliance with principles of sustainable development and green economy. I think the current government understands it, – said Jasna Plevnik
She says Croatia is proud on its geographical and geotraffical position presenting them as its geostrategic advantage, but Jasna Plevnik says, nothing exists forever. It can happen to Croatia to be bypassed with new transport corridors like is a corridor from the Greek port of Piraeus that is set up as a starting point for entering Asia's goods, as well as China's, into Europe.
China is now an owner of the port in Piraeus, so it is reasonable to expect series of China's investments in connecting the Port with neighbouring countries and Central Europe.
It is about investing in railway infrastructure from Piraeus to Thessaloniki. There are negotiations on building a line Thessaloniki-Skopje, the capital of Macedonia, the country which has very developed relations with China. Finally, the Belgrade-Budapest HS railway project, total value 2,4 billion euros, is sealed. That flagship project in the region is bypassing Croatia. To the west of Croatia is Slovenia that is determined to start building the second track Divača –Kopar, worth 1 billion euros what will make it very competitive in the BRI and "16 plus one" frameworks.
– Slovenia expects of the EU funds share of non-refundable of 26% (The Connecting Europe Facility), but it is not sufficient for realization of one of the biggest Slovenian project so they are also negotiating with Chinese banks – said Jasna Plevnik.