The Belt and Road Initiative in South East Europe
Details
Dr. Jasna PLEVNIK, Vice President of the Geoeconomic Forum, Zagreb, Croatia
Second SiLKS Annual Meeting, DRC, Beijing, 16th May 2017,
The Belt and Road Initiative in South East Europe
Given the growth in the size of the Chinese investments in the South East Europe (Bosnia and Herzegovina, Croatia, Montenegro, Macedonia, Serbia and Slovenia), we can assume the Belt and Road Initiative (BRI) could play an important role in further increasing of Chinese direct investment in that region in the coming years.
South East Europe (SEE) is entering in a new era of Chinese investments and this trend requires of political leaders around the region to extrapolate their bilateral strategy towards China giving them a regional dimension too and, to coordinate national economic and development policies with China's the BRI multilateral goals. It may help South East Europe to create more prosperity of this next stage of economic integration of China and Europe as well as to minimize its challenges. I will return to it in more detail later on.
Since 2011 – 2016 Chinese exports to, and imports from, the SEE region have grown but none of these countries is top investment destination of China in Europe.
South East European countries will continue to seek China's capital for infrastructure projects of national importance. China builds its economic links with SEE mostly through lending to government's companies for investment in ports, bridges, roads and, energy sector. This way of economic relations is a source of concern because all countries in the region are heavily indebted.The paper The "Belt and Road" Initiative and its implications for South East Europe (2016) recommends other forms of cooperation such as concessions and public-private partnerships.
Serbia remains, by far, the main recipient of China investments in the region. China has shown a strong interest in financing and building Serbian infrastructure. Its direct investments in Serbia between 2011 and 2017 are on rise and are around 4 billion euros. Nevertheless, the number of contracts is far behind of China's announcements on investments in Serbia.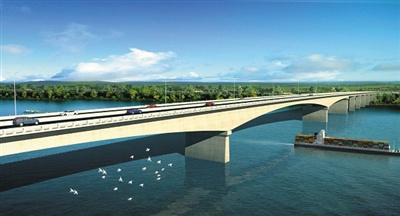 2014 December 18: Serbia opens the Zemun-Borča Bridge built by a Chinese firm
The Chinese investments started in 2012, with China's announcement of an initiative on China – Central and Eastern European countries cooperation,often referred as "16+1 Cooperation". It has improved significantly economic relationships between China and South East Europe. China initiated the new format of relationships after an assessment that its trade and investments in that part of Europe are in deep imbalance in respect with its economic relations in post-industrial Europe.
In 2013, China launched The One Belt, One Road that presents China's development philosophy concept based on innovation, coordination, green economy, opening up and shared development aiming to bring Asia and Europe growth through connectivity. It has captured the essence what has going on in the world.
Now, the both initiatives' mechanisms reinforce each other giving South East Europe – China relations a more vigorous dynamic. We witness this quality inThe Belgrade – Budapest rail line project that entails in itself both levels of cooperation: "16+1"and the BRI.
The initiatives have been supported by all SEE countries (SEECs) that percept China as a stabiliser and the world's leading trade power and the second largest investor state that has done many positive things to expand economic, and people-to people connectivity between South East Europe and Asia.
South East European countries do not make strong distinction between "16+1 mechanisms and the BRI understanding them as overlapping mechanisms that could contribute to their growth in public and private sectors.This approach is formally confirmed at Suzhou summit 2015, when PMs of China and 16 Central and Eastern European Countries supported developing its cooperation in synergy with Belt and Road and The Investment Plan for Europe.
Emphasizing and explaining the synergy of "16+1" and the BRI should occupy a strategic position in the SiLKS activities in South East Europe because on it an operative success of the BRI depends.
The BRI and South East Europe Multilateral Cooperation
South East Europe relations with China in Belt and Road framework are recognised as a novelty. Here, for the first time in history, is a mode of cooperation that does require multilateral approach between South East European countries and China. To say that is not to suggest that bilateral relations are insignificant. I am going to try to throw out some pointers.
The BRI stimulates South East European countries to accelerate their national economic development through promoting regional growth and evolve stability. It is about building a relationship following the high standards of coordination between South East Europe and China's growth policies through connectivity of infrastructure, multilateral trade and investment.
Developing of SEE countries and China relations in a broader context than bilateral one could also be helpful for Chinese capital to accomplish its economic goals in the region that has been featured by small markets and, weak level of transport connections.
The multilateral approach of the BRI encourages Bosnia and Herzegovina, Croatia, Montenegro, Macedonia, Serbia and Slovenia to shape their diplomacies with China not only as national – serving but also regional – serving if want to achieve maximum of The Silk Road Economic Belt and the 21st-century Maritime Silk Road. It should manifest as more coordination among of national, regional, and inter-regional development plans and interests.
Further, a multi–dimensional openness of the BRI gives South East European countries an opportunity to upgrade their mechanisms of cooperation and translate it into more jobs and benefits for people and stability. Many Balkan countries are on the edge of being economic failed and, without HSR connections. These problems are going to persist if the countries do not develop a pro-regional approach in the BRI – relations that is more on multilateralism and less on bilateralism.
Another huge help will be that Serbian and Croatian think tanks, members of SiLKS, start an academic, governmental and business South East Europe – BRI dialogue organised with participation of responsible state officials and funded by think tanks. If anything, the regional dialogue could bring a greater clarity on benefits of this Initiative for South East Europe as a whole.
The importance of making a genuine SEE strategy for the BRI grows
There is no an informal regional agreement on governing of possibilities that Belt and Road Initiative is opening to South East European countries.The countries are not in position to handle the big BRI's projects on an individual basis because of their small markets and undeveloped transport connectivity among them.
This situation, with many other things, puts them in a weaker position in relation to big European economies that are working to join Belt and Road Initiative coordinating their industry plans with it.
It is about addressing to a wide spectrum of the BRI's opportunities in a shared way or strucking a similar chord in SEE. Developing of South East European coordinated approach requires giving advantage to power of integrative diplomacy capable to work at national, regional and global level enabling the region to be part of the New Silk Road in an important and satisfied way.
The coordination at regional level could facilitate South East Europe to get higher benefits of Belt and Road Initiative. Managing the relations with the BRI in more coordinated way will be challenging because of wide political differences between six South East European countries shaped in 1990s.
Croatia and Slovenia are members of the EU and should to follow the EU institutions diplomacy in conducting their relationships with China whilst non – EU countries: Bosnia and Herzegovina (applied for the EU candidate status) Macedonia,Montenegro, and Serbia (EU candidates) have freer hands in the relation with China.
Croatia and Slovenia, as the EU member countries, are pretty well equipped to address the issue of conformity of the BRI projects in SEE with EU norms, laws and practices. There is a strong need for a guidance for Chinese and South East European companies how they could secure a state of compliance before concluding an agreement. Generating online knowledge on the BRI compliance with operating laws and competition rules of The European Union may be useful.
This is not an abstraction, serious challenges lie here and I shall briefly include at this point. Now, we could see there is a possibility of a delay in realization of the flagship project HS railway Belgrade-Budapest. The European Commission in February 2017 launched an investigation into the financial viability of the Hungarian part of the project and its conformity with European Union procurement rules. Think, for example, of the Serbian section Belgrade-Budapest railway future if the Hungarian part of the project enters in a protracted period of the investigations.
The SiLKS' task, in this part of Europe, is to encourage of the harmonisation of the BRI with the EU standards even when it comes to non-EU members. The processes of Macedonia, Montenegro, and Serbia joining the EU (accession) could be finished beforethe BRI that isa long, pluralistic process that could last for several decades.
Regarding with it can be suggested that Silk Road Think Tank Network could launch a programme of filling a vacuum on the EU standards and laws that could leave behind a serious progress in the BRI's implementation in SEECs.
Building a coordinated approach for the BRI
One of the big things is that the Silk Road Economic Belt and the 21st-century Maritime Silk Road are mutually dependent economic corridors, however in South East Europe should be Belt and Maritime focuses. Given that Serbia in South East Europe could play a key role in enhancing on shore SEE visibility to the BRI through connectivity of development strategy, markets, transports and people. Serbia already has a strategic position in the BRI's Land Bridge Economic Corridor, because of its geographical location. In 2016, Serbia and China signed, in Riga, as mentioned above, the agreement on modernisation of the Serbian section of the Belgrade-Budapest railway and the investment strengthens Serbia's position as a key platform between the Greek port of Piraeus – owned by Chinese capital– and Central Europe.
In 2016, China and Serbia have signed a comprehensive strategic partnership agreement and, a Memorandum on establishing Belgrade as a centre for coordination of all infrastructure projects under the "16+1" formation South East, East and Central Europe.
Serbia's continued and extensive activities inside China's initiatives put it in position to outline an agenda for growth of the BRI regional dimension and, jointly with Bosnia and Herzegovina, Croatia, Montenegro, Macedonia, and Slovenia transform it in a regional mechanism for effective multilateral relationships with China, and Asia.
Croatia, at the Mediterranean Sea, has ports and rail connections, though outdated, to the markets in Central, Eastern and Northern Europe. That maritime argument can by itself provide Croatia to work on promoting benefits of the Maritime Silk Road and take a lead on enhancing off shore SEE visibility of the BRI' projects.
Croatia should also research a potential of the Central land corridor of the New Silk Road which passing very close to Croatia. If Croatia "reads" carefully the map of the new economic corridors it will see the BRI could bring it many direct and indirect benefits that lie in opportunities to develop deeper economic relations with China and the other countries of Asia.
Croatia's Adriatic ports have not yet a strategic position in that part of the BRI but it might be changed soon. From 2013 to May, 2016 Croatia was not particularly interested in connecting its strategic infrastructure projects with its bilateral diplomacy towards China neither with multilateral diplomacy frameworks known as "China plus 16", and the Belt and Road Initiative.
Today, current Croatian government and the President of Croatia have put Croatian ports in theri focus of the country development beeing very aware of the Chinese initiatives. Croatia expresses a positive attitude towards the New Silk Road initiative, perceiving it as a means to expand its exports to China and attract Chinese investments.
Croatia's government plans to build, until 2027, a new port terminal on the island of Krk that will be connected by a new four-way road bridge and below it there will be a two-track railway bridge but has no funds for that mega project.
The BRI's sea corridors are stretching from the port Piraeus to the port Venice passing close to Croatian coast and its ports. Croatia with its favourable geo traffic position has an opportunity to become a part of 21st century Maritime Silk Road. It opens a possibility to north and south ports of the Adriatic and Ionian Sea to become entries for goods from Asia. China needs many gateways in Europe.
Regardless of constructing, many new rail corridors along the new Silk Road China's trade with Europe will continue to focus on the Suez and the Mediterranean. For now more than 90 percent of goods from China to Europe is transporting by sea. It makes Croatia attractive to Chinese investors. The Croatian port of Rijeka could take a bigger part of that traffic, and become one of important centres in the economic cooperation between Asia and Central and Eastern Europe, and vice versa if it would be connected with Central and West Europe with faster railway lines and had investment in its terminals.
SiLKS' role in explaining SEECs – the BRI relation
It is worth recalling how South East Europe – China relationships have been viewing and theorizing by European advanced countries. Let me begin with an apparent, resistant contradiction – the partnership of European developed economise with China is seeing as a purely economic whilst Chinese economic activities in the Balkans are "geopolitical threat " to Europe stability and unity.
An entire academic literature repeats that projection on South East Europe – China relationships.

It has become an intellectual fashion interpreting the nature of China's presence in the Balkans as geopolitical one ignoring its economic implications despite many positive developments.
The tide of claims that Chinese economic diplomacy initiatives may have hidden geopolitical agenda for South East Europe started in 2012 when China launched "16 plus 1" diplomacy. Moreover, some commissioners in the European Commission, like Karel De Gucht, had an intention to control nothing less than development of South East Europe relations with China. It seems that rough approach is passing away or becomes more sophisticted. However, SEECs must be careful because in its broadest sense this approach tcould be an attempt to limit SEECs ability to attract Chinese capital.
In the case of SiLKS' job in South East Europe, it could be to control these misleading approaches as best it can by clearing the ground for a constructive interpretation that can by itself to provide an empirical assessment for understanding, in fuller, the reality of the BRI in Europe. Here the facts must have an absolute voice.
At this point, the SiLKS activities in SEECs have to bring an answer on what is happening between South East Europe and China that reflects and explains the course of real events in SEECs – BRI relations.
South East Europe – BRI relations are unfolding but it is clearly visible their main feature is economic not political or geostrategic one. The analysis of implementation of Budapest proposals (2011), The 12 measures of Warsaw (2012), The Guidelines from Bucharest (2013), The Belgrade Guidelines (2014), Suzhou Guidelines (2015) and Riga Guidelines (2016) shows the relationships develop particularly in the area of economic cooperation. The economic presence of China in South East European countries is in accordance with the principles of the free market and free trade.
China's initiatives has proved themselves politically neutral following China's foreign policy principle of non-interference in domestic, regional and, EU affairs of the countries what have made them attractive to South East Europe.
New uncertainties and the BRI
South East Europe is area where interests of global powers intersect, with open economies dependent on situation in the global economy and institutions. Like many other regions in the world, South East Europe is approaching to a cloud of uncertainties that could harm the tissue of economic interdependence built in earlier phases of economic globalisation and, slow down dynamic of connectivity processes everywhere.
Unlike the recent past, new global context could be highly shaped by political populism's half-facts, rhetoric, and ideology of protectionism and economic nationalism. The fact is that we live in a time when the prospect of trade war between big economic powers does not look remote.
The governments in South East Europe could find themselves under pressure to change their structural economic and political choices. To govern is to choose, and bad choice would be to take a course of anti-free trade policies and a vision of a torn world. The first victims will be South East European economies.
The rise of deglobulisation tendency should not be seen as a dangerous for New Silk Road future, but more as a new, strong momentum for the BRI that has already established itself as an extensive multilateral model and leverage for "joint development" of Europe – Asia through strengthening trade system and, investments. All proglobalisation forces of the world could resort to the BRI.
In the face of protectionism The IMF, WTO and World Bank presented in April, 2017 a report entitled "Making Trade an Engine of Growth for All" what is a very supportive message to the BRI as a driver of Europe – Asia growth.
China is a big believer in Europe's future despite BREXIT, refugee crisis and terrorism and good progress has been made in carrying out the Belt and Road Initiative. The BRI has power to continue with upgrading of economic interdependence between Europe and Asia and strenght free trade environment.
---
[1] See, for example, an explanation of Chinese investments in Central and East Europe in Philippe Le Corre, and Jonathan Pollack Paper 1, " China's Global Rise: Can the EU and U.S: Pursue a Coordinated Strategy?" Brookings, October 2016, page 21. "Some countries simply must welcome Chinese investors, which puts them in a weaker position in defending core values of international order. China is therefore able to rely upon Hungary, Croatia, Serbia, and other Central and East European partners to dilute the content of EU policy statements critical of Chinese external behaviour." In the institutions of the EU there are no evidence for that claim, and furthermore, Croatia has not been interested in China's investment and joining the BRI until Riga 2016 and had no significant China's invetsments.