Making a Difference: China's development path and governance concept spark global interest
Details

Jasna Plevnik, President of the Geoeconomic Forum, a Croatian think tank, said China has helped many countries through its outbound investment and foreign assistance. "In particular, China's assistance to African countries has played an important role in their infrastructure construction and effectively improved the lives of local people," she told Beijing Review
Making a Difference:China's development path and governance concept spark global interest
By Xu Bei · 2019-11-08 · Source: NO.46 NOVEMBER 14, 2019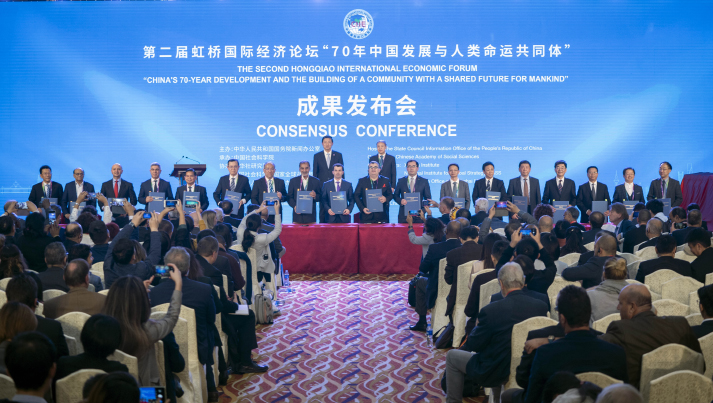 Delegates attend the signing ceremony of a cooperation agreement between Asian think tanks during the Second Hongqiao International Economic Forum in Shanghai on November 6 (XINHUA)
In recent years, the China-proposed concept—building a community with a shared future for humanity—has attracted extensive attention in the international community. A sub-forum of the Second Hongqiao International Economic Forum, held on the sidelines of the Second China International Import Expo in Shanghai, once again demonstrated the warm welcome to the idea.
Over 400 representatives from think tanks and media outlets of some 100 countries and regions attended the event on November 5-6. After discussions on the approaches and possibilities for countries to jointly build a community with a shared future, the Shanghai Consensus was adopted.
Peaceful development
As stated in the consensus, over the past seven decades, the Chinese people have created a better life with their diligence and wisdom. The nation, once poor, closed and backward, has grown into the world's second largest economy and achieved all-round development. China has accumulated rich experience in maintaining sustained and rapid economic growth, promoting industrialization and urbanization, boosting scientific and technological innovation, reducing poverty on a large scale as well as improving people's livelihood.
Figures published by the National Bureau of Statistics in September showed that from 1952 to 2018, China's GDP increased by 174 times from $30 billion to $13.61 trillion. The life expectancy of Chinese people rose from 35 in 1949 to 77 years in 2018.
This is not merely a success story in the economic field, according to Martin Jacques, a senior fellow at Cambridge University. The rise of China has offered the world a new vision as instead of following the obsolete path of imperialism and colonialism or copying the development model of Western countries, China has followed its own path, drawing on its past experience.
Peter Kagwanja, President and Chief Executive of Kenya's Africa Policy Institute, said that a community with a shared future does not mean that all countries should necessarily follow the same path or adopt the same model, but that they should find a way to coexist peacefully and harmoniously with other countries and achieve common prosperity through dialogue. This is the reason why the concept has been so widely accepted in the world, Kagwanja added.
Apart from the achievements in economic development and poverty reduction, China's investment in scientific and technological innovation in recent years was also recognized. Yabuta Jinichiro, President of the International Development Center of Japan, said that in this information age, China has been playing a leading role in areas such as 5G, facial recognition, artificial intelligence and big data.
Sound interactions
Seventy years on, the People's Republic of China has not only explored a development path different from that of other major countries in light of its own history, culture and national conditions, but also maintained sound interactions with the rest of the world.
China has participated in economic globalization and promoted the integration of global trade, investment, talent and knowledge. It has provided opportunities for other countries in terms of economic growth and employment. It is also playing an increasingly important role in maintaining world peace and promoting global governance reform, supporting poverty alleviation in other developing countries as well as addressing climate change.
Former Prime Minister of the Czech Republic Jiri Paroubek said China's success is all-dimensional, which has taken place not only in the economic sector but also in innovative technology, medical care and other areas. In recent years, China has further eased market access for foreign investment and implemented a series of measures to promote a higher level of opening up so that the rest of the world can share the potential and opportunities offered by the Chinese market. The China-proposed Belt and Road Initiative, in particular, has made great contributions to economic globalization.
Phinij Jarusombat, former Vice Premier of Thailand, said the proposal of building a community with a shared future is of great importance concerning the future of all countries and brings opportunities to people across the world.
Jasna Plevnik, President of the Geoeconomic Forum, a Croatian think tank, said China has helped many countries through its outbound investment and foreign assistance. "In particular, China's assistance to African countries has played an important role in their infrastructure construction and effectively improved the lives of local people," she told Beijing Review.
The opportunities brought by the Belt and Road Initiative over the past six years were recognized. The consensus stated that the initiative has boosted investment and trade as well as infrastructure connectivity among participating countries. Mutually beneficial cooperation among nations with different cultures and systems has been carried out, providing a new platform for the interconnected development of all.
Former Serbian President Tomislav Nikolic told the event, "China has proved to the world that its initiatives can benefit many countries. The Belt and Road Initiative works because every country is treated equally and can communicate and cooperate on an equal basis."
"The initiative is not only helpful in our cooperation with China, but within this framework we are able to work with many other countries as well as explore third-party markets," Plevnik said. "China has also promoted the establishment of international financial institutions such as the Asian Infrastructure Investment Bank, helping solve financing difficulties in other developing countries."
Cultural dialogue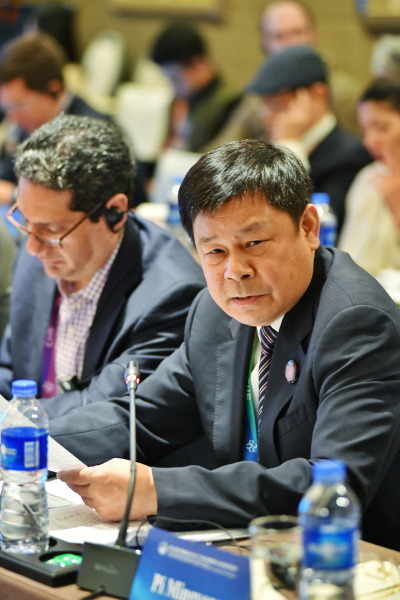 Du Zhanyuan (right), President of the China International Publishing Group, speaks at a panel discussion on the sidelines of the Second China International Import Expo in Shanghai on November 6 (WEI YAO)
Du Zhanyuan, President of the China International Publishing Group, said people-to-people exchanges are the most effective way to promote global governance, which is a major issue that concerns the interests of all countries.
"Dialogue among civilizations is the most fundamental value of the international community. It can lay a solid foundation for reforming and improving the global governance system," Du said.
Fan Jinshi, honorary President of Dunhuang Academy China, shared Du's view. She said only by drawing on each other's strengths can different cultures continue to innovate and gain more vitality.
Other participants also advocated engaging with other civilizations on the basis of respecting and maintaining their diversities.
Fabian Bosoer, an editor with Argentina's Clarin newspaper, said mutual learning and equal dialogue among civilizations are based on mutual understanding. "In order to build a community with a shared future, we need to analyze the background of many international affairs and the root causes of the crisis in the existing international order," he said.
"A community with a shared future is indicative of a new model of international relations, which emphasizes win-win cooperation," Yang Peou, Secretary General of the Royal Academy of Cambodia, said, adding that it can promote the sustainable development of human civilization by transcending narrow, nationalistic visions.
FacebookTwitterLinkedInMore